Forget Apple; did you know that the people that made AK-47s built cars? Now you do.
---
10.) Samsung
Known For: Consumer electronics
Yes, the Samsung that made your Galaxy S4 also has an automotive arm currently owned by Renault, where they sell cars in South Korea and Chile.
G/O Media may get a commission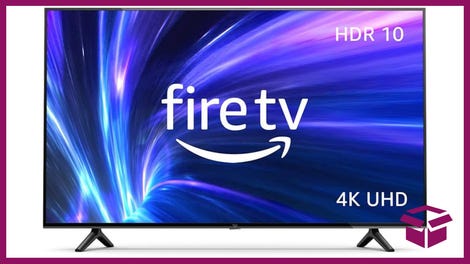 42% Off
Amazon Fire TV 50" 4K Smart TV
Samsung wanted to leverage their might in other electronic industries into making Samsung cars a successful thing, but their dreams never panned out.
Suggested By: Yossarian, Photo Credit: Samsung
---
9.) Grumman
Known For: Aircraft
The same company that made the venerable LLV mail truck (which is sadly going to the great post office in the sky), made some of the best military aircraft of the 20th century, including the original Hellcat and they made the Apollo Lunar Module.
All the sudden you realize that lowly mail truck has a hell of a pedigree.
Suggested By: Vlan1, Photo Credit: Getty Images
---
8.) Elektromaschinenbau Fulda
Known For: Generators
Norbert Stevenson, a freelance journalist living in postwar Germany had found success making generators, but his larger ambition was to make a car. His Fuldamobil was the result of that dream and proved to be a highly successful and influential people's car.
Be sure to check out reader Jonee's excellent history over at OppositeLock.
Suggested By: Jonee, Photo Credit: MartinHansV
---
7.) Crosley
Known For: Radios, Home Appliances
Powel Crosley Jr. was well known for his home electronics, broadcasting corporation, and ownership of the Cincinnati Reds when he decided to enter the auto industry in 1939. Crosley made some pretty adorable subcompact cars until 1952, with one of their cars winning the first ever race at Sebring in 1950.
Suggested By: Phil_L, Photo Credit: Bill McChesney
---
6.) Messerschmitt
Known For: German WWII Fighter Planes
Many airplane manufactures began making microcars after the war, but Messerschmitt is arguably the most well known. Their three-wheeled Kabinroller (literally, cabin scooter) was one of the most interesting cars to come from postwar Germany.
The KR175 and KR200 are very indicative of Messerschmitts airplane making experience.
Suggested By: Patrick Frawley, Photo Credit: Five Starr Photos
---
5.) Matra
Known For: Aerospace, Defense Technology
Matra is best known as a former automaker now, but before they made any cars they were most known in the French defense industry. Rocket launchers and missiles were their specialty. They bought out a small French automaker in 1962 and ended up producing some fascinating sports cars, minivans with Renault, and successful race cars.
Their Cosworth powered F1 won both the Constructor's and Driver's Championships in 1969 with Jackie Stewart at the helm.
Suggested By: jtso, Photo Credit: Lothar Spurzem
---
4.) Autobacs
Known For: Auto Parts Sales
Autobacs is basically the Pep Boys of Japan who made their own car, the Garaiya, when they acquired tuner/boutique automaker Tommykaira. It's sort of like a Japanese Lotus Elise, being that it was super light and powered by a Nissan SR20.
Good luck finding one outside of Gran Turismo, though.
Suggested By: RazoE, Photo Credit: Autobacs
---
3.) Kalashnikov Concern (IZh)
Known For: Weapons such as the AK-47
Yes, the company that has brought you some of the most well known assault rifles in the world built Moskvitch copies and motorcycles. They later went to develop some of their own models, and now make Kias and Ladas under license.
Suggested By: For Canada, Photo Credit: IZh
---
2.) Swatch
Known For: Watches
Many don't know this, but Smart isn't just a dumb name, it actually means Swatch Mercedes ART. The original Smart was designed by Swatch, and manufactured by Mercedes only after a partnership between the two companies was formed.
Fun fact! Originally, Volkswagen was going to make the Smart but Ferdinand Piech killed the plan.
Suggested By: Wolc, Photo Credit: Smart
---
1.) Steinway
Known For: Pianos
Of the two major piano makers, Yamaha is well known for their dalliances in the auto industry as well as making motorcycles, but Steinway had a license to produce Daimler products and made Mercedes in New York City in the early 20th century.
The price of entry for an American Mercedes? Not cheap, but that's what you pay for Steinway quality.
Suggested By: Maxton86, Photo Credit: Mercedes-Benz
Welcome back to Answers of the Day - our daily Jalopnik feature where we take the best ten responses from the previous day's Question of the Day and shine it up to show off. It's by you and for you, the Jalopnik readers. Enjoy!
Top Photo Credits from left to right: USAF (Matra missile), Elf via the excellent Automobiliac (Matra MS 84 F1 car), AP (Rocket built by Aerospatiale, which merged with Matra)