Why go for a low power output on your car when you get 400 more horsepower than that? These automakers understand that nothing exceeds like excess. These are the 10 cars with the widest horsepower ranges.
---
10.) Caterham Seven, 79 HP-310 HP
On the bottom of the range, the Caterham 160 can be had with just 79 HP. In our eyes, that's more than enough power to have a good time. But for those who are really looking for trouble, Caterham also has a 310 HP model that's capable of doing 155 MPH and 0-62 in just 2.8 seconds.
G/O Media may get a commission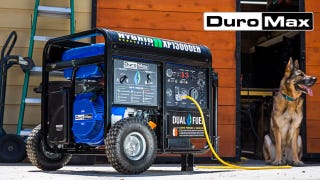 Black Friday Sale
DuroMax Generator Sale
Suggested By: SennaMP4, Photo Credit: Caterham
---
9.) Ford Focus, 85 HP-350 HP
For the less adventurous Ford Focus buyers, the Focus can be had in Europe with an 85 HP 1.6 liter inline-four. On the other side of the lineup rainbow, the 350 HP Focus RS, uniquely equipped with all-wheel drive and a magic-like drift mode, will soon be available to reek havoc at track days, rallycrosses, twisty mountain roads, and all that beautiful, beautiful stuff.
Suggested By: interstate366, Photo Credit: Ford
---
8.) Land Rover Range Rover Sport, 254 HP- 550 HP
For the 2016 model year, Land Rover has finally decided to bring some diesel models over to North America. This means that the new lowest-output Range Rover Sport model here in the states is the SE Td6. Though it's supposed to be $1500 more than the base gasoline model, this lower-horsepower model is well-longed for.
I mean, it's a Range Rover that gets 28 MPG and 440 pound-feet of torque! Damn straight it's well-liked.
Suggested By: SennaMP4, Photo Credit: Land Rover
---
7.) Mercedes W124, 71 HP-396 HP
Back when cocaine was still cool and boxed-fenders were actually still a thing, Mercedes-Benz's W124 chassis was available in sedan form with engines putting out between 71 HP and 396 HP.
Though the Porsche-engineered 500E might be the most well-known W124 model, it isn't the most powerful or nearly the most rare. Coming in with 396 HP, the W124 done up by AMG held the top spot.
Suggested By: tapzz, Photo Credit: Mercedes-Benz via Jalopnik, peterolthof via Flickr
---
6.) BMW 4 Series, 150 HP-493 HP
Though they might differ by just a bit more than what can be found under the hood, they're both 4 Series, in some way, shape, model designation, or form. If the low-output 418D doesn't cut it for you, maybe you should try jumping for the 493 HP M4 GTS. Why not?
Suggested By: Margin Of Error, Photo Credit: Stratstone BMW Leeds via YouTube, BMW
---
5.) Cadillac CTS, 268 HP-640 HP
Cadillac may have taken the manual transmission away from the CTS-V, but they sure didn't take away the batshit option. With a power plant basically dropped in from the current Corvette Z06, the Cadillac CTS-V has 372 HP more than the starting level CTS.
Batshit indeed.
Suggested By: CAcoalminer, Photo Credit: Cadillac
---
4.) Dodge Challenger, 305 HP-707 HP
By no means is the base V6 Dodge Challenger under powered, but it also isn't remotely close to the unheard-of 707 HP that the Hellcat produces. That added 402 HP sure does make something of a difference.
Suggested By: Duck, Photo Credit: Dodge
---
3.) Dodge Charger, 292 HP-707 HP
In its basic rental car state, the Dodge Charger's 292 HP does its job just fine. For some power hungry consumers, that isn't enough, so they jump for the R/T trim. For those who need more than the R/T trim, maybe they go for the 392 SRT trim. Then even further down the line, there's the Dodge Charger Hellcat. The 707 HP four door sedan that is built for complete lunatics.
Suggested By: JohnnyWasASchoolBoy, Photo Credit: Dodge
---
2.) Mercedes-Benz E-Class, 134 HP-577 HP
Around the world, Mercedes-Benz's E-Class has many different jobs in various different trim levels. In the lower diesel trims, like the E200 CDI, E-Classes can be found being put to work as semi-luxurious taxis. For the taxi driver that wants a little more or for the family guy that needs some actual excitement in life, the E200's 134 HP can be bumped right up to AMG status with a drool-worthy 577 HP.
Suggested By: Labcoatguy, Photo Credit: M 93 via Wikipedia, Mercedes-Benz
---
1.) Tesla Model S, 315 HP-762 HP
By topping their already insane P85D trim level with the ludicrous 762 HP P90D, Tesla not only now rules the whole world of electric cars, they also have the world of all-wheel drive performance sedans on-lock too.
Sleeper status, achieved.
Suggested By: mhadden, Photo Credit: Tesla
Welcome back to Answers of the Day - our daily Jalopnik feature where we take the best ten responses from the previous day's Question of the Day and shine it up to show off. It's by you and for you, the Jalopnik readers. Enjoy!
Top Photo Credit: Dodge