Last week, I asked you frugal, aspiring millionaires what the best supercar under $100k was, and as always, you replied with astonishing results. These are the best cars you can buy on eBay, under a six figure price tag. This is gonna be good.
And just so we're all on the same page and don't get in petty squabbles about weight, engine size and tire width, the definition of "supercar", according to Wikipedia, is a very expensive and high-performance sports car or grand tourer.
---
10. Lamborghini Gallardo
---
Lambo's entry-level supercar was a game-changer. It's largely considered the go-to car for the newly wealthy, for a reason. Its 5 liter V10 gives a scream that would send chills to even the most spineless of middle-aged men. Squeaking by at just under $100k, it's a solid buy, and a ton of performance value for the money.
(Suggested by $kaycog)
---
9. Chevrolet Corvette ZR1
---
G/O Media may get a commission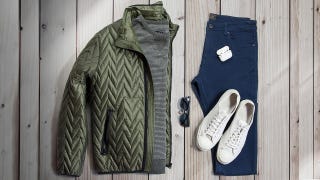 60% off
Jachs NY Fall Sale 60% Off
Here it is, the 600+ horsepower, 6.2 liter supercharged monster that was faster than anything that came out of virtually anywhere else in the world at the time, and it had 3 American pedals instead of some candy-ass flappy paddle foreign job. It was also the first time that a Corvette broke $100k MSRP. Well, that was then and this is now - you can lop $30k off the original price tag, with depreciation to thank.
(Suggested by Jarod Rose)
---
8. Maserati Granturismo GTS
---
Here's one of the best sounding and best looking cars ever made. This one has the 4.7 liter Ferrari V8, and has the same style of transmission as the F430 Scuderia, according to the seller. This lovely example is well under budget, so you could get some choice mods or just save the rest in a piggy bank for when maintenance time rolls around, not having to worry about which limb you'll miss least.
(Suggested by rb1971 1MMZ3E9ContiMaserDoc)
---
7. NSX Type T
---
No supercar list is complete without at least mentioning the Acura NSX. It's a car you can drive every day, with the same maintenance schedules as a Honda Accord, and the durability of an M1 Abrams tank. This one is a late model Type T, presumably for its targa removable roof. It's a contender, if only for its freakishly long retractable antenna.
(Suggested by damnthisburnershitsux)
---
6. Nissan GTR SPE 650
---
Of course the Nissan GTR is going to be on this list. It's the bargain supercar of the century, but let's be honest, it's a bit bland in stock form when you really get to know it intimately (I'm talking out of my ass). That's why the good folks at SP Engineering have made this "650" version - you get three guesses as to what the number represents. This car is nearly brand new and is probably covered by the manufacturer warranty. It's a tremendous value, if only for the work and quality of parts involved.
(Suggested by damnthisburnershitsux)
---
5. Ferrari 550 Maranello
---
Known as the V12 Ferrari styled specifically for eccentric orthodontists, this Ferrari 550 looks every bit the part of an exotic, while retaining some semblance of practicality and ease of use. Hell, this one is equipped with a 6-speed manual with the holy grail of options - a gated shifter. *heavy breathing*
(Suggested by nermal, Patrick Frawley, Three Pedal Minivan)
---
4. Lamborghini Diablo
---
It's yellow, the doors go up, it makes an insane sound from its hand-built Italian V12, and has the acceleration of a go-kart. You don't have to drive it everyday, but know that when you do, it'll be an event. This one comes in well under budget, as a fine example of Italian engineering in the early 90s.
Look at this sweet 1991 Diablo in Penis Magnet Yellow.

It can be yours for just a bit more than a launch edition Volvo XC90 T8 hybrid, in Jalop Magnet Brown.

It comes with 12 raging cylinders and 6 gears that must be engaged manually.

$86K and 9 hours remaining, what are you waiting for ?
(Suggested by Kate's Dirty Sister, p.d.morgan33, driftwhatever)
---
3. Audi R8 V10
---
This was a genuine surprise to me, as I didn't know the price of these cars came down so drastically. Here is an optioned-out Audi R8, with a reworked version of the Lamborghini Gallardo's V10, with looks that are arguably more striking, decent reliability, and dat exhaust note. It's nearly perfect in every way.
(Suggested by Audistein)
---
2. Ferrari 360
---
I'll let our resident Ferrari owner and impromptu-gas-station-conversation connoisseur Doug DeMuro, explain:
I seem to recall facing a similar challenge in January. I considered all the options and still believe this is the best choice:

Here's why: one, it's fast, but not insanely so. I've previously owned cars with well over 500 horses, and this one is WAY more manageable — in my opinion, that makes it more exciting to drive. You have to actually go get the power, rather than just stomp down your foot and go zero to sixty in 2 seconds. Two, it's reliable. Buy an 02 or later and there are virtually no major issues to worry about — except for the major service. But even that isn't SO expensive, at just $3k every 4 years. Far better than $6-9k for a 355 — not to mention the other issues that model has. And three, it's still fairly modern. Mine has working AC, power windows, xenon headlights, dual power seats, and keyless entry. It's no 458, but it's also no bare-bones 308.

Still the best deal for the money, unless you're just obsessed with horsepower. Now, someone prove me wrong!
(Suggested by Doug DeMuro)
---
1. Porsche 997 GT3
---
If you don't enjoy driving this car, you don't enjoy driving. Here's Michael Prichinello, co-owner of Classic Car Club Manhattan, explaining why:
There's a 997 GT3 available, so no need for anyone else to add anything. Six speed, manual steering, gobs of power and the ability to kill its owner with ease! let's all just move on to the next post
(Suggested by TokyoBayAquaLine, Michael Prichinello, April_N_,Dolemite108)
---
Tavarish is the founder of APiDA Online and writes about buying and selling cool cars on the internet. He owns the world's cheapest Mercedes S-Class, a graffiti-bombed Lexus, and he's the only Jalopnik author that has never driven a Miata. He also has a real name that he didn't feel was journalist-y enough so he used a pen name and this was the best he could do.