A ski trip isn't just about driving through snow; it's about getting into the mountains and skiing and drinking and eating good food and maybe hooking up and enjoying life, man. These are Jalopnik readers' picks for the ideal ski vacation ride.
Welcome back to Answers of the Day — our daily Jalopnik feature where we take the best ten responses from the previous day's Question of the Day and shine it up to show off. It's by you and for you, the Jalopnik readers. Enjoy!
Photo Credit: Oskar Bakke
G/O Media may get a commission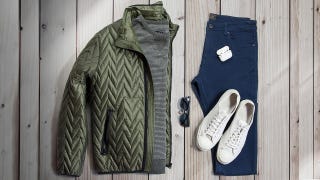 60% off
Jachs NY Fall Sale 60% Off
10.) Volkswagen Westfalia camper
Suggested By: Brian, The Life of
Why it's approved by the ski patrol: The eternally bohemian VW Bus in all its forms remains a favorite for long-distance road tripping. The Westfalia camper package lets you avoid overpriced resort lodging. Bonus points if you can find one of the slow-but-unstoppable Syncro models
Photo Credit: Kevin Turinsky
9.) GMC Typhoon
Suggested By: Timma
Why it's approved by the ski patrol: Plenty of standard midsize SUV usefulness with the added appeal of a hugely powerful turbocharged 4.3 liter V-6. Official vehicle of the old-skool extreme-skiing crowd.
Photo Credit: Barrett-Jackson
8.) Lotus Turbo Esprit
Suggested By: About a third of the respondents, but JackTrade was first
Why it's approved by the ski patrol: Provided you have Her Majesty's finest mechanics to keep it in good condition (and rebuild it after a theft attempt), the Esprit does have its advantages: the turbocharger keeps power up at higher altitudes, traditional Lotus suspension refinement helps on rough roads...okay, fine, it's a damn silly ski car. But it looks amazing, and if conditions are clear enough it owns mountain roads.
Photo Credit: United Artists/MGM
7.) Unimog
Suggested By: Gothmog3VZ - Red AW11 makes my Camry all jelly
Why it's approved by the ski patrol: If your idea of backcountry skiing involves going completely off the grid, the Unimog is your ride. It will carry the full inventory of your favorite ski shop, convenience store, and small wine boutique over any solid surface on Earth. As long as you have fuel, it will provide motion.
Photo Credit: Mercedes-Benz
6.) One of Jon Olsson's Lamborghinis
Suggested By: Gamecat235
Why it's approved by the ski patrol: The king of extreme skiing has tastes to match his X Games-dominating moves. While Lamborghinis tend to lack for ground clearance, the AWD systems and purposeful suspension settings should make cold-weather driving surprisingly manageable. (Olsson is not the only downhill master who prefers Lambos; Alberto Tomba had a Countach.)
Photo Credit: Oskar Bakke
5.) Ferrari FF
Suggested By: moejr
Why it's approved by the ski patrol: Almighty Ferrari power and speed, now supplemented with an all-wheel-drive system and enough space for a month's worth of clothing and gear. The indisputable choice for plutocratic resort transport.
Photo Credit: Ferrari S.p.A.
4.) Subaru Legacy Wagon
Suggested By: Ratieya
Why it's approved by the ski patrol: Probably the most pragmatic choice on the list, and a perennial favorite in snow country. What it lacks in speed or sex appeal is more than made up by an eternally cheery hard-working character, hand-tool reliability, and the ability to slog through anything short of an avalanche. Any Subaru would be at least adequate, but the Legacy covers everything well.
Photo Credit: AlisaRyan
3.) Audi A7
Suggested By: Captain Slow and his Flying Washing Machine
Why it's approved by the ski patrol: The star-cruiser Audi is the inheritor of a long and well-earned tradition of dominating the roads in harsh climes. While maybe not as gleefully aggro as an RS wagon, the A7 is an unparalleled cross-country runner regardless of road condition or weather.
Photo Credit: Audi/Volkswagen
2.) Volvo XC70
Suggested By: BrtStlnd
Why it's approved by the ski patrol: Take everything we all love about Volvo wagons – no-nonsense Scandinavian design, terrific seats, loads of room, good driving dynamics, profound structural integrity — and add a bit of ground clearance and a good AWD system and you have the Platonic ideal for the modern ski-trip car.
Photo Credit: Joe Wolf
1.) Jeep Grand Wagoneer
Suggested By: Defender90
Why it's approved by the ski patrol: Skiing has always been one of the prime preppy sports, and the big old-tech but eminently capable Wagoneer has been getting Chad and Lauren and their offspring to the slopes for decades. For vintage all-American slope appeal, nothing else comes close.
Photo Credit: Jeroen Elfferich