So you've decided to join the motorcycle cult, but you don't know what's a good first bike. One of these ten should do the trick.
---
10.) Honda CRF250L
A small dual-sports like this Honda here is a versatile option for a beginning rider. You can practice on dirt, and still enjoy the bike on the street.
Dual-sports are also an excellent choice for pothole-ridden cities thanks to their long suspension travel.
G/O Media may get a commission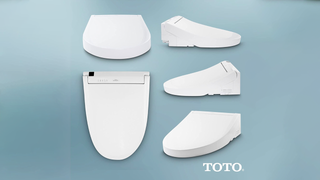 44% off
Toto Washlet Electronic Bidet Toilet Seat
Suggested By: Brian, The Life of, Photo Credit: Honda
---
9.) Buell Blast
Wes Siler, the word's best motorcycle-and-dog-camping blogger, described the Blast as one of the "most boring bikes ever made." Indeed, it's design was highly compromised, but it still makes an excellent first bike.
As commenter shootemupy2k notes, the 500cc single cylinder has enough low end torque to make things easy but not so much power you'll get in trouble, and the seating position is excellent.
Suggested By: shootemupy2k, Photo Credit: Buell
---
8.) KTM Duke 390
This lightweight from KTM would make an excellent entry-level bike, especially if you can find a used one. JohnnyWasASchoolBoy can explain:
"It's got enough motor to be highway-worthy and to keep you from being in the way in traffic; but not so much that you'll put yourself into a mailbox. It's got a good centre-of-gravity, it looks cool, and the fact that it's a single cylinder makes it a little more mechanically simple."
Suggested By: JohnnyWasASchoolBoy, Photo Credit: KTM
---
7.) Honda CB250
If you don't need speed, but you do need style, an old Honda CB250 is a great choice. These bikes are cheap, simple and cool as hell.
Once you've got some experience under your belt, you could turn it into a badass cafe racer.
Suggested By: K5ING, Photo Credit: Honda
---
6.) Kawasaki Z650 (Or Any Universal Japanese Motorcycle)
The term Universal Japanese Motorcycle (UJM) refers to a very specific type of motorcycle made by a variety of Japanese manufactures in the 1970s and 1980s. Motorcyle.com has a solid definition:
"The basic platform was an upright, open seating position motorcycle powered by a carbureted, air-cooled engine wrapped in a steel-tube cradle-type frame, and at least one disc brake to bring it all to a stop. The simple design made motorcycling accessible to riders of all types and skill sets. UJMs could be found in various displacements, and their ubiquity helped grow motorcycling in America during the 1970s and '80s."
These bikes are fairly inexpensive and reliable, and have just the right amount of power. Commenter 472CID suggested a Kawasaki Z650, but any UJM is an excellent choice.
Suggested By: Spacegrass/472CID, Photo Credit: Graham Robertson
---
5.) Honda Grom
The Grom is a tiny bundle of joy. It only has 9 horsepower, but the fact that it only weighs 225 lbs. more than makes up for that. For zipping around the city, it doesn't get better than this.
GromGromGromGromGromGromGromGromGromGromGromGromGromGromGromGromGromGromGromGromGrom!
Suggested By: K9H20, Photo Credit: Honda
---
4.) Kawasaki Ninja 250
The Ninja 250 is the quintessential first bike, but there's a very good reason for that. Reader and riding instructor User1312 can list the reasons why the Ninja 250 is a great choice:
"Cost: The bike is easily available. Lots of options means competitive pricing. And if you do eventually get bored with it, you can sell it for pretty much what you bought it for next spring

Machine: It's a solid bike. I don't recommend buying a bike that you'll have to wrench on, but it's easy to maintain. It has all the power you need (perhaps not want), and it looks pretty sharp.

Saftey: In class, we can teach you how to ride a motorcycle. But we cannot give you experience riding the streets of an urban area. The last thing you want to do as a new rider is learn to ride a new motorcycle in a new, potentially dangerous environment. A Ninja 250 is very similar to the class bikes, and that lets you focus on the road and riding."
If you've got the extra dough, the new Ninja 300 with ABS is also an excellent choice.
Suggested By: User1312, Photo Credit: Richard Ashurst
---
3.) Suzuki SV650
The SV650 was one of the most popular suggestions we received for this question. Reader POD can explain why:
"Comfortable riding position, not too much power, but more than enough to get out of it's own way. Lots of them out there so you should be able to pick one up used for a good price. V-twin engine. You can get it naked, or with a cowl depending on your tastes."
These things are also very upgradable, so when you gain some more experience and want more performance you don't need a new bike.
Suggested By: POD, Photo Credit: Gzminiz
---
2.) Honda CB300F
Wes called the CB300F the "Best First Motorcycle Ever" and he knows a thing or two about bikes. It's got everything you want: light weight, decent power, fuel efficiency, and excellent ergonomics.
We think you should start on a used bike, and since the CB300F is new, just wait a bit for more used ones to hit the market.
Suggested By: Patrick Frawley, Photo Credit: Honda
---
1.) Suzuki GS500
It's not the greatest bike ever made, but it might be the greatest beginner bike ever made. Reader Dirka can tell you why:
"Cheap as hell and you don't mind beating it up, they're easy to find. They're bigger than a 250 so you don't get bored that fast but they're not as big as a 600. They have a approachable riding position. They're really perfect and found for 1100 easy. There are lots of better bikes but your 2nd bike should feel like a big step up and most things are a step up from the outdated GS500."
Suggested By: Dirka, Photo Credit: joel
Welcome back to Answers of the Day - our daily Jalopnik feature where we take the best ten responses from the previous day's Question of the Day and shine it up to show off. It's by you and for you, the Jalopnik readers. Enjoy!
Top Photo Credit: Honda
---
Contact the author at chris@jalopnik.com.