Since MTV's Video Music Awards doesn't have a 'Best Car' category, we figured we'd use our magical automotive powers and help them out. These are the best music video cars ever, as selected by you, our readers.

---
10.) The Cardigans — 'My Favourite Game,' Cadillac Eldorado
A busted up Eldo on the outside with a seemingly perfect Cherry Red interior on the inside? Works for me.
Just not so sure about that whole part when she uh, steers with her feet. Or starts mowing down pedestrians. In fact, what the hell is going on in this music video? Great song though.
Suggested By: The Devil Drives a Rotary
---
9.) 2NE1 — 'Go Away,' BMW E36 M3 Race Car, Porsche 996 Race Car
If you can ignore the poorly simulated crashes and the fact that most of the in-car shots of these "race cars" are just normal cars with full interiors, the music video does show some pretty intense action moves between (what appears to be) a properly-built Porsche 996 race car and a BMW E36 M3 race car.
G/O Media may get a commission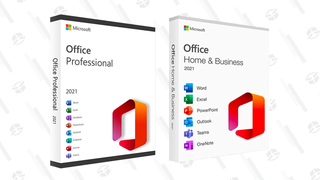 95% off
Cyber Monday - Lowest Price Ever - Microsoft Office Lifetime License
Suggested By: Urambo Tauro
---
8.) M.I.A. — 'Bad Girls,' Peugeot 404 Wagon
From this video it is evident that if you're M.I.A., your only means of transportation are hagwallah-ing a BMW 3 Series and cruising around in a glowing, transparent Peugeot wagon.
Okay.
Suggested By: As Du Volant
---
7.) Ice Cube — 'It Was A Good Day,' Chevrolet Impala
If there's anything that added to Ice Cube's "don't fuck with me" attitude, it would be the Candy Apple Green Chevrolet Impala that he can be seen mean muggin' out of in this music video.
Ice Cube, we're good, right? Please don't swarm upon me.

Suggested By: JSWilson64_g
---
6.) Kylie Minogue — 'Can't Get You Out Of My Head,' DeTomaso Mangusta
Who else remembers this song blowing up on the radio in the early 2000s? I wish I didn't! But I shall forgive it for its usage of the DeTomaso Mangusta.
Not sure if I can forgive that dancing though.
Suggested By As Du Volant
---
5.) Red Fang — 'Wires,' Chevrolet Impala Station Wagon
Putting a $685 1979 Chevrolet Impala Station Wagon to work by using it as a rolling projectile and just running over everything in sight. Except for the beer. The beer is safe.
Suggested By: PontiacSSV
---
4.) Calvin Harris — 'We'll Be Coming Back', Porsche 911, Ferrari 512 BB
There isn't much out there more entertaining than watching a Ferrari 512, a classic Porsche 911 and a motorcycle cop (?) do slidey turns, race around desert roads, search for treasure and perform straight-up thuggery. Calvin Harris, you're alright in our book.
Suggested By: 365DaytonaFan
---
3.) Jamiroquai — 'White Knuckle Ride,' Porsche 911 Carrera RS
Whether or not this Carrera RS is a clone, this music video's helicopter chase featuring the 911 ripping through the desert on some straight up dirt roads is just perfect.
Why doesn't every music video feature a Carrera RS eating dirt?
Suggested By: SnapUndersteer
---
2.) Sheryl Crow — 'Steve McQueen,' Ford GT40
Though I can't say I have much interest in the song itself, the appearances of a Mustang fastback, a classic Camaro, a bunch of historic-looking race cars and of course a Ford GT40 make watching the video worth it. You can always turn the sound off if you need.
Suggested By: $kaycog
1.) ZZ Top — 'Legs,' Ford Eliminator
If she got legs and she knows how to use them, why does she need such a ludicrous hot rod for transportation?
I'm not complaining, ya know, I'm just wondering...
Suggested By: Jcarr
Welcome back to Answers of the Day - our daily Jalopnik feature where we take the best ten responses from the previous day's Question of the Day and shine it up to show off. It's by you and for you, the Jalopnik readers. Enjoy!
Top Photo Credit: Noisey via Youtube