Happy 40th birthday, BMW 3 series. In lieu of cake, we're going to celebrate the best production models in your history.
---
10.) E30 325ix
Generally, an all-wheel drive 3 series is not something to get terrible excited over, but that's not the case with the original 325ix. It had a simple, rear-biased AWD system and the wonderful straight six from the 325i.
Oh, it also had fender flares. Sweet, sweet fender flares that easily make this one of the coolest and most underrated 3 series ever made.
G/O Media may get a commission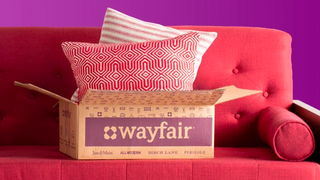 Big deals
Wayfair Surplus Sale
Suggested By: ixismore, Photo Credit: BMW
---
9.) F30 320i 'Jalopnik' Edition
Why would I include the slowest 3-series BMW makes right now on this list? Well, it's the purest 3 series you can buy right now.
When they launched the new 320i, BMW wanted to offer something to the driving enthusiasts that made their brand what it is today. For around $35,000, you can spec the 320i with the Sport Package and a 6-speed manual, and have yourself a great driver's car.
Even as they create endless variants on crossovers, and absurd 4-door 'coupes,' the so-called Jalopnik Edition 320i proves that BMW still cares about you and I.
Suggested By: Arrivederci, Photo Credit: BMW
---
8.) E46 330i ZHP
The E46 generation is a fan favorite, and for very good reason. They had elegant, timeless styling and excellent performance to match.
The gorgeous 330i ZHP split the difference between the M3 and the standard 330i, offering excellent performance and livability.
Suggested By: mylittlescreenname, Photo Credit: BMW
---
7.) Alpina D3 Touring
Alpina takes a different approach to tuning than BMW M, but still produces cars that are completely lustworthy in their own way.
With the D3 Alpina takes a normal diesel 3-series, cranks the engine up to produce 350 hp and 516 (!) ft*lb. of torque, modifies the suspension, and installs a sexy set of rims.
You want one. Badly. I'll have a green wagon, please.
Suggested By: zomgwtf, Photo Credit: Alpina
---
6.) E36 M3 Lightweight
I'd include this one for the stickers alone, but this M3 has the chops to back up its looks. BMW took the normal (excellent) E36 M3 and pulled out 2oo pounds of weight to make the (cleverly named) lightweight.
They're exceedingly rare, so if you can find one, you're very lucky.
Suggested By: TheJWT, Photo Credit: Mr.choppers
---
5.) E90 M3 CRT
Take an E90 M3 sedan, add the 4.4 liter V8 from the M3 GTS, and take out some weight. Only 67 were sold (none in the US), and they're the stuff that dreams are made of.
Good luck finding one.
Suggested By: TekamulBurner, Photo Credit: BMW
---
4.) E36 325i
This is probably the least exciting 3 series on this list, but there's no way I couldn't include it. We can lust after crazy M3 variants all we want, but ultimately that only shows one side of the 3 series picture.
For most, the 3 series is the wonderful pairing of attainable luxury with excellent driving performance. The E36 325i nails this formula. So no, not the most exciting, but maybe the most quintessential 3er here.
Suggested By: Patrick Frawley, Photo Credit: BMW
---
3.) E46 M3 CSL
For many the E46 is the ultimate M3, with its excellent handling and manic, high-revving straight six. The CSL took all that was great about that car and amplified it to the max.
BMW took 240 lb. out of the normal M3, added some unique body panels and aero bits, and equipped the cars with an SMG gearbox. Reviving the CSL name from the legendary 3.0 CSL race car was a ballsy move, but BMW pulled it off brilliantly.
Suggested By: Hart88, Photo Credit: BMW
---
2.) E30 333i
Want a 3 series that nobody has heard of before? Try a 333i.
These were made in super limited numbers in 1986 for the South African market, and featured the 3.2 liter straight six from the 7-series. It was developed with help from Alpina, and it's the coolest.
Suggested By: Stephan Kippe, Photo Credit: BMW (via Smotra.ru)
---
1.) E30 M3 Sport Evolution
The first M3 has been elevated to mythical status, but there's an extremely good reason for that. It's truly one of the greatest sports cars ever made, totally living up to the hype.
The super rare Sport Evolution cranked the 2.5 liter inline-4 up to a scarcely believable 238 hp, and drove the car straight into our hearts.
Suggested By: As Du Volant, Photo Credit: BMW
Welcome back to Answers of the Day - our daily Jalopnik feature where we take the best ten responses from the previous day's Question of the Day and shine it up to show off. It's by you and for you, the Jalopnik readers. Enjoy!
Top Photo Credit: BMW
---
Contact the author at chris@jalopnik.com.