Good morning! Welcome to The Morning Shift, your roundup of the auto news you crave, all in one place every weekday morning. Here are the important stories you need to know.

1st Gear: Nissan Could Pay Almost $100 Million In Takata Airbag Settlement
Not nearly enough people are participating in Takata's airbag recall, the largest in automobile history. We learned in June that someone repairing a Honda Accord died when the airbag deployed, despite Honda claiming that it sent twelve recall noticed to registered owners of that car over a seven year period.
To help get people to fix their flawed cars, Mazda, BMW, Subaru and Toyota took part in a $553 million settlement earlier this year. Part of that settlement involved providing rental cars for people who need to turn their cars in for a fix.
Now Nissan's got a similar settlement on the horizon, with The Detroit News reporting that the company could pay $97.68 million, in part, to fund an "outreach program" aimed at getting faulty airbags out of the 4.4 million affected Nissans. In addition, that nearly nine-figure settlement would "compensate owners for expenses while getting their cars fixed, including rental cars."
G/O Media may get a commission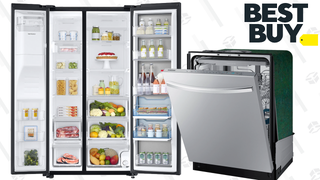 Up to 50% off
Best Buy - Samsung Major Appliance Sale
That sounds like a good thing; bringing cars in for repairs is a pain in the ass, and a rental car would make things a lot easier. Hopefully this settlement will convince people to get their damn cars fixed, so we can stop reading tragic stories of people getting hurt by airbags in cars that have had recall notices out for years.
2nd Gear: Takata Asks The Court To Stop People From Suing Carmakers For A Bit
Speaking of the largest recall in automobile history, Takata and its North American subsidiary TK Holdings Inc. want to put a little pause on lawsuits against automakers. The companies went into bankruptcy after numerous lawsuits associated with the Takata's faulty airbags, which have claimed the lives of 11 people in the U.S.
That company's bankruptcy acted as a barrier against a wave of lawsuits for "wrongful death, injuries, economic loss and breach of consumer protection laws," Automotive News reports. But it didn't stop lawsuits against automakers who sold cars equipped with Takata's dangerous airbags.
So last month, the bankrupt company went after a preliminary injunction aimed at doing just that. Automotive News describes the reasoning why Takata wants to halt litigation against automakers, saying:
Takata said the litigation would distract management from completing the sale of the company's viable operations to Key Safety Systems for $1.6 billion and could threaten the supply of airbag inflators to replace recalled ones.
The news site says a number of auto companies agree with the call for a six-month lawsuit delay. Among them: BMW, Ford, Honda and Toyota, all of which said in a court filing that the delay would help Takata restructure and that it would "protect the supply of replacement inflators and diminish the risk of future deaths and injuries."
Naturally, lawyers representing those affected by the faulty airbags aren't thrilled, with some saying the injunction request is "an abuse of the bankruptcy laws for the benefit of all of the world's largest automobile manufacturers."
3rd Gear: Former FCA Financial Analyst Pleads Guilty To Fraud

Last month, the feds indicted certain FCA employees suspected of funneling over a million dollars to UAW officials to keep them "fat, dumb and happy." Among the suspects was Jerome Durden, controller of the company's National Training Center.
While in that role, Durden "helped to steer funds, plane tickets, mortgage payments and other goods valued at more than $4.5 million to UAW [officials]," according to the Detroit Free Press.
The news site says Durden pleaded guilty yesterday to a count of conspiracy to defraud the U.S., with a plea agreement saying he did this by "impeding, impairing, obstructing and defeating the Internal Revenue Service" from investigating.
Durden also pleaded guilty to filing false tax returns for five years, having withheld payments of hundreds of thousands of dollars to members of the UAW.
The plea deal cut down the potential six year jail term and $275,000 fine to 37 months behind bars and possibly a requirement to pony up all those unpaid taxes. We'll find out if those terms stick when Durden is sentenced on December 12.
4th Gear: Volkswagen Will Pay Germans To Turn In Their Old Oil-Burners
After Germany's emergency "Diesel Summit" last week geared at preventing cities from banning diesels, automakers and lawmakers resolved to update the software in five million diesel cars, and to spend money making infrastructure more efficient.
On top of all of that, German carmakers discussed giving customers incentives to trade in their old, dirty diesels for newer, cleaner ones. German newspaper Der Spiegel said Ford was offering an "environmental bonus" of two to eight thousand euro for anyone who traded in a diesel older than 2006. The newspaper also said BMW might offer a 2,000 euro incentive.
Now we've got some figures from the automaker that started this whole diesel fiasco: Volkswagen. Automotive News reports that the Wolfsburg-based company's VW brand will offer a 2,000 to 10,000 euro rebate to anyone trading an old diesel for a cleaner model. Those numbers rise to 3,000 to 10,000 for Audi-brand vehicles, and a firm 5,000 euro for Porsches.
Customers can get a further 1,000 to 2,380 euro discount if they buy an electric, hybrid or natural-gas vehicle, the news site reports. So if you're a German with a smoke-spewing old diesel vehicle, you've got until the end of the year to get a hefty rebate. That is, if you're still interested in buying a Volkswagen.
5th Gear: Ford Deploys Teams To Deal With Police Explorer CO Issue
Ford is sending five investigative teams around the U.S. to teach law enforcement organizations about the threat of carbon monoxide in the company's police cruisers, the Detroit Free Press reports.
We learned last month that police departments have voiced concerns about possible CO poisoning of officers driving Ford Explorers, and now Austin PD has removed an estimated 400 of the vehicles from its fleet according to the Detroit Free Press.
These CO-exposure concerns, Ford maintains, result from "improperly installed or sealed aftermarket modifications, such as added emergency lights, for a rash of carbon monoxide complaints associated with police SUVs." These mods can leave unsealed holes near the lift gate, which can let in carbon monoxide from the exhaust.
Hopefully Ford's teams will help police departments get those tailgate holes all sealed up. We don't need officers losing control of enormous 5,000 pound SUVs.
Reverse: Firestone Recalls Tires Because Ford Explorers Keep Rolling Over
Neutral: Do You Find VW's Rebate Appealing?
Volkswagen betrayed millions of people with its dieselgate scandal, but now the company is trying to win customers back. Do you find their rebate—which applies just to Germany for now—enough? If not, what's it going to take to get you to buy a VW again?