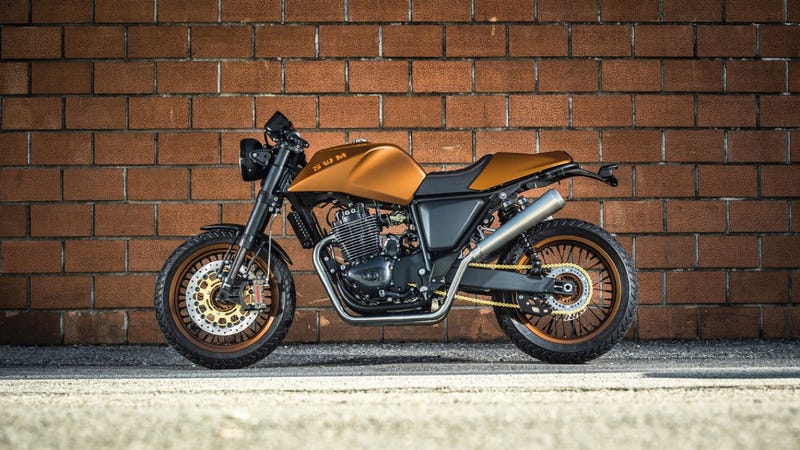 It's easy to pick a defunct motorcycle brand out of a hat and try to resurrect it. But that whole "money" thing can be an issue. One motivated Italian engineer has solved that problem with some Chinese funding, and he's bringing the SWM name back to life, starting with the Grand Milano 440.
Ampelio Macchi enjoyed stints at Aprilia and Cagiva before resuscitating SWM – which stands for Speedy Working Motors and is an absolutely awesome acronym (swim?) – with six new motorcycles at this year's EICMA show in Italy.
If you're not up on your vintage Italians, welcome to the party. SWM was a small purveyor of off-road bikes (mainly enduros and motocrossers) in the 70s and 80s before going bankrupt and then liquidated in 1984.
Macchi teamed up with China's Shineray motorcycle company to bring SWM back to life, but unlike similar partnerships where bikes are built in China and then slapped with some branding, Shineray is providing the funding while SWM builds the motorcycles in Italy.
Of the six bikes that debuted, the Grand Milano 440 is the pick of the bunch, splitting the difference between retro and modern with twin rear shocks and spoke wheels combined with an angular tank, upside-down forks, and disc brakes.
The frame is original, but the air-cooled engine is an older Husqvarna 400cc that gets a larger bore to boost displacement another 40cc, along with fuel injection and an oil cooler. Combined with updated electronics, 17-inch wheels, and dual exhaust, the Grand Milano comes in at 320 pounds. There's no word on sales – either in Europe or the U.S. – just yet, but the 440 would be fun to bounce around town if SWM survives long enough to make it.