Last year, Rinspeed showed us their wild "Budii" concept. The autonomous BMW i3 with its seven-axis articulating steering column and Segway-like pods in the back were straight out of a Looney Tunes. Not to be outdone, Rinspeed's now got an autonomous version of the BMW i8; it is equally as insane.
The Rinspeed autonomous i8 is called the Ʃtos, and Rinspeed already teased us with preliminary info and sketches a few months ago. But now we've got real photos and more info, and let's just say the results are typical Rinspeed: totally wacky, but in a futuristic and perhaps genius sort of way.
The Ʃtos officially makes its debut next month at the Consumer Electronics Show in Vegas, marking the first time Rinspeed has launched a car outside of their home Swiss home turf.
G/O Media may get a commission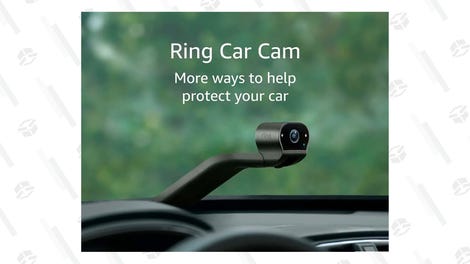 The 3,500 pound sports plug-in hybrid, built on an i8 platform, gets a 1.5-liter gasoline engine, a 96 kW electric motor and a 7 kWh lithium-polymer battery making combined horsepower and torque numbers of 357 horses and 420 lb-ft (300 nurples), respectively.
The crown jewels of the concept car, though, are the two curved 21.5-inch wide monitors atop the dashboard and the folding steering wheel, which retracts into the dashboard to give the driver more room when in autonomous mode.
The Harmon Connected Car infotainment system is meant to act as a personal assistant. Describing the technology as one that "thinks along, is courteous, anticipates needs and on top of that provides perfect entertainment, connectivity and maximum safety," Rinspeed wants to minimize required driver input to make the infotainment system as seamless as possible, though voice commands, gestures or touch inputs are available.
Eight HD cameras monitor the vehicle's surroundings to maximize field of view. But the wildest technical feature is undoubtedly the on-board DJI drone, whose landing platform is right on the rear of the car. That landing platform, comprised of 12,000 LEDs, can act as an "electronic message board or a visual dancefloor." Rinspeed described their drone's capabilities in a typical-Rinspeed weird sort of way, stating:
The drone itself is capable of providing some very useful services. For example, it can quickly pick up a bouquet of flowers for the significant other ordered on the way home. And the little flyer is a lot of fun when it acts like a UFO, shooting a selfie of the ride in the "Σtos" on your local favorite route and streaming it live to friends. Heads up: that little thing has an extremely high addiction and envy factor!

To put it more briefly, #brands.
Visually, the Ʃtos shares a similar profile to the i8, but gets a black mouth, kind of like the Seat Bocanegra. It's positively gorgeous, though the interior is where the true beauty lies.
Photo Credit: Frank Rinderknecht, Rinspeed