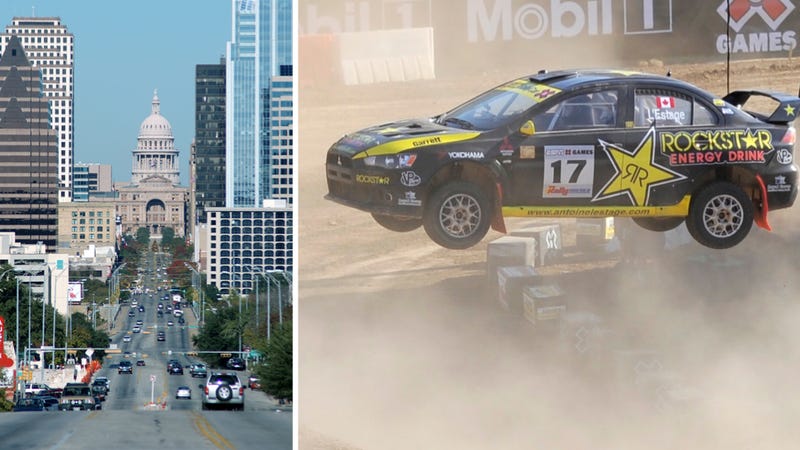 Austin, Texas, the land of live music festivals, breakfast tacos and cheap liquor, will officially play host to the Summer X Games from 2014 to 2017, it was announced this morning. Sorry, Detroit.
Actually, I'm bummed for the Motor City. I think they would have done an outstanding job. But they lacked the Circuit of the Americas, one of the very best motorsports facilities in the world right now, and that's a tough venue to compete with.
Aaron Foley of Jalopnik Detroit has a good piece on how residents are reacting to the decision after they pulled so hard to get the X Games.
The Austin American-Statesman reports that COTA will host the X Games next year from May 15 to 18 "in an effort to dodge Austin's searing summer heat." It should only be about 100 then instead of 110, which is perfect Texan sporting weather.
Austin is stealing the X Games away from Los Angeles, which has hosted the events for the past 11 years. The capital of Texas won out over Detroit, Charlotte, Chicago and other cities, the Statesman reports.
As a native Texan and former Austinite myself, I'm excited to see flying rally cars and motorcycles join the ranks of Formula One, Aussie V8 Supercars, ALMS and other events at COTA. The city is really shaping up to be a paradise for motorsports fans, and that's never a bad thing.
The Statesman reports that "Although the bulk of the competitions will be held at the circuit, a sport or some promotional events will likely be staged in downtown Austin."
Austinites, get ready to bitch about more traffic and downtown road closures!
Photo credit Shutterstock/Getty