I now have additional proof that Subaru executives are sneaking into my house at night and reading my dream journal: They debuted what is essentially a BRZ shooting brake at the Tokyo Motor Show. Let me say that again just to be clear: BRZ. Shooting. Brake.
That's probably the best way to describe the Subaru Cross Sport Design Concept. It's a very nice surprise out of Tokyo, isn't it? See, we had heard rumors about a possible BRZ/FR-S shooting brake for a while, in addition to the supposed four-door sedan said to be in the pipeline. But I always assumed the former was somewhere between auto journalist wishful thinking and total bullshit; it just seemed too ridiculous to ever see the light of day.
And yet, here it is, live and in the flesh. Er, sheet metal. I have to say that it looks pretty good, even better than the current BRZ/FR-S. It's kind of like a Ferrari FF for workin' folks like us, but I think it pulls off the shooting brake design much more elegantly than the Italian exotic does.
G/O Media may get a commission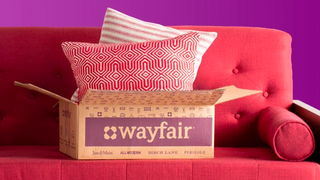 Big deals
Wayfair Surplus Sale
Oddly enough, Subaru hasn't put out many details or official photos of the car just yet. Motor Trend writes that it comes in at 169.3 inches long, a respectable two-and-a-half inches longer than a BRZ. They say it weighs 2,756 pounds, basically the same as a BRZ, and it sends power to the rear wheels (hell yeah player) through a CVT gearbox (awww hell no.)
The transmission choice is... disappointing, to say the least, but it makes me think two things: one, that Subaru is smart enough to stick a manual on a car like this if it ever goes to production, or two, that their new Lineartronic CVT — which also goes on the 2015 Subaru WRX — is so damn good it belongs on a performance car. We'll have to see about that last one. I'm extremely skeptical.
You've probably noticed that the Cross Sport Design Concept looks like it rides higher than a BRZ. If you have, you're right. Motor Trend says the concept is a bit higher, much like the XV Crosstrek is a bit higher than the standard Impreza. It also features a utility-friendly split tailgate in the back, unlike the BRZ's rear trunk, and the rear seats have been moved back for more legroom than the BRZ. That's kind of nice, as the BRZ's rear seats are only suitable for dogs under 10 pounds at the moment.
No word yet on engine choices yet, but that may come out later today. It's safe to assume it has a 1.6-liter or 2.0-liter boxer four like the BRZ and new WRX. Let's keep our fingers crossed that it has a turbocharger too. I'd love to see this bad boy with the 300 horsepower motor in the luscious Subaru Levorg wagon. Then again, it doesn't have a hood scoop, so probably not.
Unlike the Levorg, Subaru says the Cross Sport Design is purely a concept at this point. I need that to change. Come on, Subaru, the rear-drive BRZ platform is only being used in one (technically two, as it's sold under different names) car at the moment. Wouldn't it make sense to put it on more models to stretch out the development and production costs? The BRZ shooting brake is a fantastic start.
If you do make it, you can shut up and take all of my money.
Photos credit Newspress, Subaru