It's been a winner for me for a few years now. Indeed it's become a bit of a 'Hero Shot' on my portfolio, such was its popularity. What makes it a winner? The ingredients. A world famous racing driver who is a household name globally, a bright red Italian racing car, a gorgeous blonde, lingerie, sunshine and blue skies. These days it pretty much always triggers the same comment, "Was it Photoshopped?" No, it wasn't. Here's how it came about.
Around four years ago, I was invited to Donington Park racing circuit in the UK for a press day. The occasion was the launch of an event called GP Live. Sadly, the event never happened and like many things in global motorsport, there's a lot of smoke and mirrors there. But that day, they were certainly rolling out the big guns and the red carpet. Famous names alongside Sir Stirling included Jochen Mass, Paul Stoddart, who was then the Minardi Formula One team owner plus a room full of motorsport press and PR people all pressing the flesh and schmoozing.
After a generous lunch with a sprinkling of Pimms and some strawberries while we shared a table with Bob Dance, Jimmy Clark's Lotus mechanic, Sir Stirling and Jochen Mass took the stage and recounted tales of motorsport from when men were men and testosterone was far more important than a safety cell or a good Arai helmet. On good form as a double act, there were good spirits all round.
Outside, there were famously valuable racing cars. Instantly recognizable icons such as Senna's black and gold John Player Special Lotus and James Hunt's Marlboro McLaren reminded us of the days when it was good to smoke in restaurants. At the head of the pit lane was a blazing red Maserati 250F owned by Pink Floyd drummer Nick Mason. Sir Stirling has swapped into a period race suit and hops nimbly into the cockpit. A couple of white overall class mechanics bump-start him down the exit road and the car clears it's throat and barks off down towards Redgate. He put in a half dozen laps before peeling off, rolling down the pit lane and cutting the engine, freewheeling to a halt.
"Why on earth wouldn't I want to be in the sun?"
An assistant dashes over with a brolly for the hot sun, but Stirling waves her away, "Why on earth wouldn't I want to be in the sun?" A photographer with assistants was shooting tethered into a laptop, creating marketing material for the event's launch. They finished and the blonde model hung around, still posing. Stirling's telling her to be careful of the hot exhausts so she moves around to the other side. Most people have taken shots and moved off, but the model is laughing more, we're all laughing too and she suddenly starts putting her arm around him and then the moment when she kissed the top of his head. Stirling removed his helmet and she did the same thing, Stirling with a surprised look on his face.
G/O Media may get a commission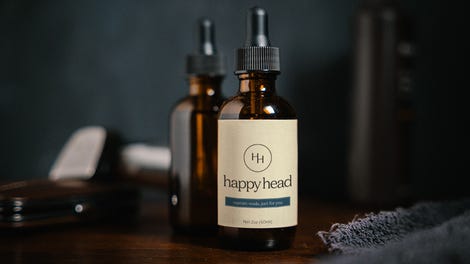 The reason why this image has proved to be popular, apart from the obvious successful ingredients of a pretty blonde and a famous driver, is that everyone else got the standard shot and turned away. I was the only person with a camera to his eye at that instant, I haven't seen any other example of the same pose. After she'd done it, the blonde looked me in the eye and nodded, she knew the shot I'd got.
I've only ever met Sir Stirling on three occasions, each time he's been the consummate professional, always finding the time for everyone in the room in an uncanny way. The lovely blonde model I just met the once, sadly. She hung around to chat afterwards and was as professional as Stirling, but with considerably better attire.
---
Neill Watson is a professional photographer, writer and race track instructor, based in the UK. Can sometimes be seen in other peoples race cars and helicopters. See more of his great work here.

Photo Credit: Neill Watson