While they're not as popular as they are in the rest of the world, people in Asia just love them a long wheelbase car. In China, especially, an integral part of "status" is a chauffeur to drive you everywhere you go, while you hang out in the back, trading rare earth metals or coal or other things that are so hot right now.
Korean automaker Ssangyong already makes a car known as the Chairman W for its high-end buyers who like other people to turn the wheel and push the pedals, but a new variant, the Summit, ups the ante.
The W Summit turns everything on the luxury dial up a notch, with just the best of everything. As the company puts it:
In particular, the world-class leather seats made by Scotland's Bridge of Weir (BOW), which feature in the Chairman W Summit – a first for a Korean vehicle - come with a leather quality assurance tag attached. This enhances the overall luxurious image of the car.
G/O Media may get a commission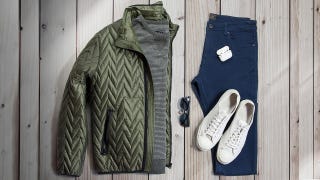 60% off
Jachs NY Fall Sale 60% Off
My last car never came with a quality assurance tag. I'm sold!
The list of life's little luxuries continues, with motor-operated rear seats with extending leg rest and headrest, a wireless charging pad in the center console for your personal devices, and a "stylish and practical" place for your air fresheners, which is something you need, apparently, when your back seat is so big you might as well live in it.
Also, the car comes in only two colors, black and white. According to Ssangyong, the black choice is for a "dignified image," and white emphasizes "cleanliness and elegance." Those who want red, yellow, blue, brown, chartreuse, mauve, pink, orange, puce, or olive drab need not apply.
Let's imagine life in your new Chairman W Summit, if only for a minute. Reclining in the back chair, you are the man. A Chair-man, as it were. Your fingers glide effortlessly over your rich Scottish cow peelings, brushing ever so slightly over your luxury quality assurance tag. Your mind relaxes, instantly releasing the stresses of your day as you know that no mere commoner has such a tag. "I must tweet about this moment," you think, knowing that your iPad is fully charged from its console.
You hit the button that helps you recline, a gentle "whirr" stirs from the motors as your leg rest extends. You like it so much, you press the button again to raise you up, just so you can go back down again. And again. And again. Whirr, whirr, whirr. As you push that button over and over, you know you have finally made it to the top, the Summit. Pushing that poor button more and more, an acrid burning smell fills the cabin. Or it would, if not for the mountain of pine-scented air fresheners you've stacked up in their special little cubbyhole.
Smoke billows around you, but you don't notice, as your eyes are closed and your mind has turned off. You have no fear of death, as you have reached the peak of life.
That is the Ssangyong Chairman W Summit.
Powered by a 5.0-liter V8, the Ssangyong Chairman W Summit has an MSRP of W114,640,000, or just over $100,000 at current exchange rates.
H/T to VWVortex!