What happens to race cars after the season is over? The next season's model comes out, and the old one fades from view. Where do the old cars go? Some of those older cars make their way into the hands of enthusiasts who not only keep them running, but race them. Welcome to the world of vintage racing.
Above is the Audi R8 LMP from 2005. It's one of the precursors to the cars that got me interested in endurance racing. How can a team be so on top of things for such a long period of time, and still get the business of racing done? Long enduros just seemed like the ultimate challenge.
It didn't hurt that Truth In 24 came out when I was a film major in college, either. This team let a film crew follow them around all season? Bonus points. You've won me over.
Here it is, in all its supercar namesake glory, sitting mere inches from me with its engine cover off. There weren't any barricades to keep the drooling public out. In fact, the entire paddock was quite open, and most owners were more than willing to tell you all about their various cars.
G/O Media may get a commission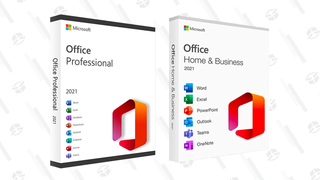 89% off
Microsoft Office Professional 2021 Lifetime License
If you ever want to see your past heroes on track, in person and up close, go to a vintage race. Some allow newer machinery than others. In this case, I was at the Sportscar Vintage Racing Association's US Vintage Racing Championship. SVRA allows both historic and significant cars to play in its sandbox. It's a fantasy wonderland of cool old metal and automotive unicorns you'll rarely (if ever) get to see anywhere else.
This car, though. I couldn't get over this car. I chatted up the driver a little bit, but had trouble coming up with much to say, like a bashful girl in front of a high school crush—only the crush was this car. It's one of the few times I've ever been legitimately starstruck.
What I learned in my short, blushy chat was that the owner had bought it from a collector. The collector wasn't racing it, so he fixed that. This man is clearly doing the Lord's work by putting the R8 LMP back on track.
This is the best part about vintage racing: every single car has a story. That's true for all kinds of racing, but the variety of stories you'll find in the vintage groups is unmatched by anywhere else.
Take the Benetton B197-03, for example. Gerhard Berger's old car doesn't look like a car that was bound for the crusher, right? Well, apparently when Formula One teams of that era were done with their current cars, they had no more use for them. The current owner worked through a broker to buy this one before it was destroyed.
Wise purchase, that.
Where else in the world can you walk right up to a Formula One car, ask how it got there and put a purple Puffalump bunny on its rear wing?
To contrast, F1's paddock security rivals that of the Pentagon. No pass, no access. You're certainly not getting into any of the garages as just a regular fan, either.
Vintage racing is just a whole different animal. Many owners had boards or cards out just to share the stories behind their cars. This was the one for Porsche works driver Vic Elford's 908/3-007.
This is what Vic Elford's 908 looks like under the rear hatch.
Long gone is the need or desire for secrecy. By now, everything in these spectacular cars is old news.
Go ahead, poke around.
Each of the four works 908s had a card suit on them, and this car had a heart on its front corner.
The 908's story is a more common one. Once the car was no longer the hot new works racer, it was sold off to privateers, eventually restored and continues to race today.
We've linked to this phenomenon before, and it's perhaps the easiest way to pick up the famous race car you've always wanted to drive. Wait until the team is done with it, then whip out your checkbook. Boom: dream race car acquired.
Even my Porsche shared a carport at another area track with this ex-Grand Am Pontiac GTO for a while.
Not every vintage racer started off in the hands of the pros, though. Some have been converted street cars since the day they were new, passed on from one racer to another. Others were more recently built into race cars. That's perhaps the most impressive thing about vintage races: it doesn't matter if you came here with an ex-Indy Lights car or a $500 Triumph you rescued from someone's yard, or even if you're just there to spectate or crew.
You like race cars. That's cool. Let's hang out.
So, enjoy some of these other awesome cars that found a home in vintage racing.
There was everything from classic Trans Am cars to more modern purpose-built race cars all the way up to 997 GT3 Cups.
This AMC Javelin was nothing if not beautiful.
This 2007 ChampCar Panoz DP01 was there for sale, waiting for its next owner with a pile of informational handouts nearby.
This ChampCar and a second one are still for sale, per the website.
This nineties Chevrolet Intrepid GTP had a carbon fiber bird's nest for a driver's compartment. Everything was carbon fiber in an era where carbon fiber was just starting to take over the racing world.
Check out that fender skirt over the rear wheel, too.
Front-wheel drive was also represented in the races. This Austin Cooper even had its race history written on its rear window. It had been racing since it was new, winning the American Road Race of Champions for three consecutive years in the late 60s.
I have a bit of a soft spot for rear-engined, aircooled cars and this NSU 1200TT was no exception. I didn't even know this car existed in the United States!
Here's mikecyc72usa from Oppo getting up close and personal with a spectacular Talbot-Lago T26C.
Here's a classic Escort. It's impossible not to like classic Ford Escorts.
Some cars had to be coaxed into running on the grid. These are sprint races, so who needs a working battery or an alternator, anyway?
Even cars like the humble Porsche 914 and 914-6 are in their element here.
Of course, older and more expensive Porsches were there, too.
Some of the most beautiful cars in the world show up to these events, such as this Alfa Romeo Giulietta Spider.
This ex-George Follmer Can-Am Shadow DN4 was one of the meanest looking cars there. All black. Huge wings. This should have been the original non-Tumbler Batmobile.
The Nissan 300 ZX-T GTO unexpectedly ran in the same race group as the Audi LMP, but held its own against much of the more purposeful looking machinery there.
The Lola T290 once raced at Le Mans in this fabulous Kodak livery, and here one is, practically in my backyard.
There were a lot of 1970s cars racing during this weekend. The cockpit of this 1976 Osella PA6/8 was bizarrely open compared to the tighter confines I'm used to seeing in modern F1 and Indy cars.
Pre-war cockpits tend to blow minds as well. If reaching away from the steering wheel to adjust the radio bothers you nowadays, you should try driving a car where the codriver has to ensure that the engine gets enough oil.
Another interior I loved was in this black Porsche 911.
So neat, clean and lime green.
It's hard to get an appreciation for how positively tiny some of the older single-seaters like this Brabham BT6 are without seeing them in person. You see them completely dwarfed by a Midget or a Spitfire, and then you realize that a Spit is half the size of your modern so-called "compact" car.
This Spit is not a large car.
Point being (besides "awesome"), there are so many cars that are eligible to run in vintage races: cars with famous pedigrees as well as cars from average dudes. Vintage races aren't just a place to see your childhood heroes. They're a great community of people who just like interesting cars and do everything within their power to keep them on track.
Where will the 2014 cars end up? Hopefully someone will keep them running where they belong: on track.