When assessing the practicality of a project, it's important to know the point in which you throw in the towel and admit defeat. I'm a bit of an oddity in this regard, as I was born without the part of my brain that makes sound automotive decisions. This is exactly why I bought a crashed and rusty 16-year old, 4-door BMW with the hopes of making a profit.
---
*This is an article from APiDA Online's Art Of The Flip series, where I chronicle the process in which I buy and sell cool cars. If you'd like to see more of these types of stories, check us out here.*

The story's original article can be found here
---
Part 1: The car no one likes, but everyone probably needs.
---
Bavarian Motor Works' M Division is the group of crafty Germans that take cars adequately described as the posterchildren of middle management promotions and lengthy divorce settlements, and turn them into something more deserving of the decades-old slogan, "The Ultimate Driving Machine".
G/O Media may get a commission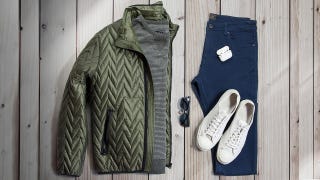 60% off
Jachs NY Fall Sale 60% Off
Their cars are unique in that they're perfectly poised to give you the precision to drive circles around and stop on a dime, and leave enough money in your pocket that you wouldn't need to get out of your car to pick up said dime. All cars throughout their range were equally guilty of this not-so-hidden ability to convert a freeway on-ramp into an instant ear-to-ear grin, although some models were less equal than others.
Pictured: The least equal of them all.
Enter the E36 M3.
By no means was this a bad car, but this was the underachiever in the M stable. It's the automotive equivalent of a young Neil deGrasse Tyson taking the advice of his contemporaries to not pursue science, but instead become a wrestler. Squandered potential for sure, for a reason that is better forgotten, BMW felt that the American market didn't deserve the ZOMGBALLS 300+ horsepower, 6-speed version that Europe got.
Instead, we got a 240 horsepower, 5-speed version that was more of a 328i that moved out of its parents' basement into a studio in the city, because THINGS ARE GONNA CHANGE THIS YEAR, DAMMIT. The resulting effort wasn't bad, but a huge transformation it wasn't. Even so, the chassis proved to be quite formidable, despite competition to this day. The guys at /DRIVE had an interesting take on it:
Pictured: Spinelli, if you're reading, I'm local, and I work for expired peanuts.
---
Part 2: A different kind of garage find
---
Although I'm not usually known for this particular quality, I can be quite persuasive. For instance, late last year, I convinced a dear friend of mine, who was set on buying a Honda Element or Subaru Outback (due to winter snow) to buy the exact opposite of what he originally wanted, a modified BMW M3. Which he purchased with me. At night. During a snowstorm.
It was quite a fine example, other than the godawful rust on the rear quarter panels. It detracted from the look of the car, but she was a runner, not a garage queen. Installed with the car were brand new fully adjustable Yellow Coilovers and a custom audio system with carbon fiber sub enclosure.

He drove the M3 for a few months, then parked it at a friend's house during a New Year's Eve celebration. When it was time to depart, he came out to a car that was a bit more modified, but this time it was involuntary. Someone, likely full of the New Year's spirit and/or bath salts had taken a rather large vehicle and attempted to pizza when they should've french fried and left the front end of the M3 looking like a crumpled piece of paper. What was even more peculiar was that the note they must've left with their info apparently blew away, because nothing was on the windshield when the party was over. The car was drivable, but the fender was pushed in, making things a bit uncomfortable for driver that wanted to make both right AND left turns. The car was parked in his garage and the insurance adjusters paid him for the full value of the car, because they couldn't open the hood to assess the damage. My friend bought the car back for $500, and with the remaining money, bought an E39 540i 6spd that was such a good value for money, that if a law was instituted in which everyone was required to purchase one, I wouldn't have a problem with it.
I offered him $1000 for the smashed BMW, and he accepted. I had never done something like this before, but I played with Legos as a child (NOT MEGA BLOCKS), and I did have a slight history of restoring and selling on cars, so why the hell not.
Part 3: Cut my Hood into Pieces, this is my Last Resort
---
I took out my angle grinder and removed the hood and latches with extreme prejudice:
After that, I removed the bumper and front nose panel. I also removed the radiator support to assess the damage:
From the looks of things, no mechanical aspect of the car was harmed. The frame rails weren't touched, and everything that was bent could be bent back with a few convincing blows with a capable hammer. What I needed was a fender, hood, nose panel - all painted - and radiator support. It was time to look for the parts.
---
Part 4: Needle in a stack of slightly different needles
---
The BMW E36 is one of the most common cheap cars out today, mainly because it's cheaper to replace than repair, and they were made at a time when the model attracted more dotcom-boom yuppies than Mark Cuban's birthday party. If you were looking for a parts car for a reasonable price, like I was, the task should've been as easy as tying your shoelaces together. Unfortunately the task more accurately resembled tying your shoelaces together if you had to relay the information to a blind pensioner using a series of beeps as a substitute for the spoken word. It was beyond hard.
The closest I got was finding a junkyard 3 hours away, in the snow-covered bumblefucks of upstate New York. They had a car that was *slightly* dented in the front, but they couldn't be sure, because they still had 2 feet of particularly hard powder on the ground, and it would take days to dig out and work on. I was stuck with a taken apart car and no parts. I could've always purchased new parts and painted them, but that would've eaten up any potential profit.
And then I saw it.
A craigslist post of a 4-door silver E36 with engine trouble. I took one look, called the owner, ran my happy ass down there and paid him his $700 asking price. I had the car towed to my house and started removing parts.
As an added bonus, the engine wasn't blown. It was just neglected. It looked as if the reservoir ran dry and cracked, spilling coolant all over the engine bay. The engine fired right up and the car even drove down the street after a fresh battery charge. I toyed around with not parting the car, but fast money is better than slow money in this case, so under the knife it went.
I took all the parts to the M3, installed the front end and topped it off with a set of new black kidney grilles. I also used some aluminum reflective tape on the airbox as a cheap way to keep the intake air temps down, and to jazz up the look of the engine bay.
I also used a headlight restorer to take the haze out of the decades-old headlights, left is finished, right is not:
---
Part 5: An exhausting endeavor
---
The purchase of the M3 came with an aftermarket exhaust - namely a UUC Corsa exhaust. It was brutal at full throttle, but whisper quiet at idle and off-throttle. A great addition by any measure, especially when it was included in the $1000 cost of the car. One problem: the exhaust donut gaskets required for the exhaust to function properly on the existing flanges were harder to find than John Goodman in a Zumba class. I managed to find a back-ordered piece at a local Pep Boys, but since the M3 had true dual-runner exhaust all the way back, I'd need to get creative for the second.
Here's what I did: Since the flanges on the old exhaust were completely rusted out, I hacked them off and installed these steel split flanges that worked beautifully. I then doped the slip-on end of the exhaust with exhaust cement, made 2" relief cuts in the pipe, and installed a 2" exhaust clamp. No leaks, and it cost me a grand total of $18.
After the new exhaust was on, it was time to detail the aging beauty.
---
Part 6: But it Nice tho
---
To tackle the interior, I needed an arsenal of reliable and effective weaponry. Here's what I used:
I vacuumed the dirty carpet, used the steam cleaner to soak in the suds and sucked it out using the same machine, making sure to agitate thoroughly.
I washed, clay barred, polished and waxed the car using these products:
I also followed these tutorials, made by Larry Kosilla at AMMO NYC and /DRIVE:
And the finished product:
---
Part 7: The Ultimate Profit Machine
---
I put the car on ebay, and it sold after 3 days, for $3500. The reason for the low price on the sale was that I knew the rust would be an issue, and valued it with enough room that the buyer could take care of it and have a pristine example. In addition, the buyer I acquired agreed to buy the parts car 328i, for $700 - the exact amount I bought it for.
Here's a rundown of costs for this flip:
| | |
| --- | --- |
| 1998 BMW M3 | -$1,000.00 |
| 328i Parts Car | -$700.00 |
| Kidney Grilles | -$35.00 |
| Exhaust Parts | -$18.00 |
| Total Spent | -$1,753.00 |
| Sold for: | $4,200.00 |
| Profit/Loss | $2,447.00 |
I made nearly $2500 reviving a car that had one wheel in the scrapyard, with 3 still on the racetrack. It wasn't the fastest thing on the road, but it was certainly surprising and deserving of a second chance. I hope the new owner continues to give this affordable hoon-mobile the appreciation it deserves.
---
Do you have a car flipping or restoration story? We'd love to hear it!
Post in the comments below or email me at apidaonline@gmail.com if you'd like to be featured!
The story's original article can be found here
Follow APiDA Online on Twitter at @apidaonline
And like us on Facebook at facebook.com/apidaonline