The A-10 Thunderbolt, also known as the "Warthog," is my favorite aircraft of all time for one reason: its gun. The bullets that exit the tip of the plane's barrel travel faster than the speed of sound. This means that if you're an enemy on the ground and hear its telltale BRRAP, you're already dead. I'll likely never get to ride in one, let alone fly one, but the closest I might be able to get is behind the wheel of the Range Rover Sport SVR.

(Full Disclosure: Land Rover wanted me to drive their new 2015 Range Rover Sport SVR so bad they lent one to me as a camera car way back during Pebble Beach Car Week.)
You'd expect the A10 Thunderbolt to have a gun, it is a military aircraft after all. What you wouldn't expect, is the sheer size of that gun—only apparent when you look at a cross-sectioned photo of the A10. It's clear this isn't an aircraft fitted with a gun, it's a gun fitted with an aircraft.
G/O Media may get a commission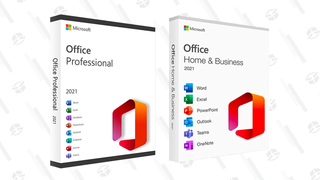 89% off
Microsoft Office Professional 2021 Lifetime License
And it's not like the plane is actually tiny, and we're making a big deal out of some little pea-shooter. It's enormous.
You get the same sense after driving Land Rover's performance SUV, the SVR. You don't expect it to be particularly fast, or loud, or obnoxious. But instead, you're faced with a manic brass symphony, as the exhaust note that exits through all four of the quad exhaust tips when you put your foot to floor. It's so significant, you can't help but feel the entire vehicle was designed around the exhaust itself.
The Pebble Beach Concours d'Elegance is simultaneously one of the most exuberant and insufferable events on the entire planet. If you've never been, you should know that there's a constant battle taking place between you and everyone else as to who can garner the most attention.
Sure, a pedestrian would flock to an Aventador SV sitting next to the SVR, but press the Active Sports Exhaust button, which conveniently looks like a pair of two of the most enormous and compensatory cannons you've ever seen, mash the throttle, and their heads will fling wildly searching for the vehicle that just blew out their eardrums.
If you're on the highway and happen to pull up next to a Ferrari-this or a Porsche-that, press that same loud button, downshift a few clicks and their jaws will drop as you scurry past them. No matter how many times I did this during my six days with the SVR, it never ever got old.

"It's louder than an F-Type," Stuart Adlard, the Vehicle Engineering Manager for Jaguar/Land Rover's SVO division, told me over the phone, and I believed him. Adlard is the guy responsible for making sure the cars within SVO are the cars customers are actually going to want and, considering his last job focused on the pattern and sound quality of the Jaguar F-Type's exhaust, I'd say he's done alright thus far.

SVO, a new division similar to Mercedes-AMG or BMW's M performance division, decides which cars within a particular line deserve the performance treatment. There was a demand from customers to take something that was usually just off-road capable, and give it actual on-road performance, according to Adlard.
Fundamentally, the principles of operation are exactly the same between the F-Type and the SVR. "There's a 'quiet route' and a 'loud route' with the valves," explained Adlard, "but while the F-Type's exhaust is operated via vacuum, the SVR employs electrically operated solenoid valves, each of which is controlled by the engine ECU, throttle position, and engine speed."
When you first get into the car, you'll experience the "performance promise" which is the same sound a lion would make after waking it up with a red-hot branding iron. It's angry, aggressive, and loud. There is also a quiet start function, I'm told, but I never felt compelled to test it.
Purists rejoice, there are no artificial sounds created by the SVR, but the engineers did allow a small amount of intake noise to come through the cabin at a certain RPM via a tap in the rear of the supercharger. Controlled by a diaphragm, it pipes the positive aspects of the intake noise into the bulkhead—but don't think it's all supercharger whine all the time. "You're not supposed to notice it," explains Adlard.

To record the audio in the video, I strapped a mic directly above the SVR's passenger side exhaust and also used an external recorder located right beneath my chin to record ambient noise in the cabin. I enabled and disabled the Active Sports Exhaust, gave a nice run up to a manageable speed limit, all while using audio from both microphones. Do you notice a supercharger whine? If not, do you care?
Why should you want a $110K+ sport utility vehicle with an exhaust note decibel level equivalent to that of a World War I cannon? Surprise. It's the best weapon you can have in an arsenal.
It's true for combat troops in trouble on the ground who call in air support from a purpose-built aircraft, and it's the same for a jealous cameraman in Pebble Beach who wants to scare the crap out of every rich guy and girl in their priceless exotics.

Now, if I could just convince the Air Force to toss me the keys to an A-10.
Photos credit: Michael Roselli