After DTM had folded in 1996, Mercedes-AMG entered the 1997 FIA GT Championship season with their CLK GTRs less than half a year after the first sketches were drawn. In order to speed up development, they bought the best car to get technology from: a McLaren F1 GTR.
You might think that since McLaren and Mercedes have been buddies since 1995, they could get a GTR after just a phone call. That was hardly the case. In 1996, the Formula-1 alliance was just starting to work, and the SLR supercar was yet to be seen. So Mercedes-AMG had to buy a car from a private team, Larbre Compétition. Chassis #11R was wearing a Franck Muller Watch livery, previously driven by Fabien Giroix, Jean-Denis Délétraz and Didier Cottaz in the FIA GT Championship.
After the car got to Mercedes, they stripped its body panels and put on a weird new one similar to the "long tail" F1 GTR's. Of course it had nothing to do with McLaren's '97 body style. Instead, it was shaped like that so Mercedes could test the as of yet non-existent CLK GTR's aerodynamic qualities. They also swapped BMW's V12 to their own LS600 6.0-litre AMG engine. This secret prototype was taken to Jarama, where it set record times before starting to suffer from cooling problems. Bernd Schneider fixed that by crashing the car.
For Mercedes and the CLK GTR, it took three races to finally be able the beat McLaren in the '97 GT season. #11R reappeared in 2000, when it was auctioned by Sotheby's in Monaco. By that time, it was wearing its original body and colors, powered by the factory BMW V12 in the middle. Today, it resides in the UK, painted Papaya Orange and wearing a number plate. Because race car road car.
G/O Media may get a commission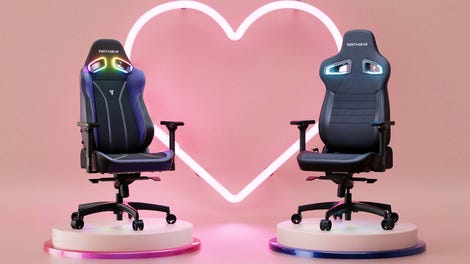 Up to $150 off
Vertagear Gaming Chairs
Photo credit and a massive hat tip to Peloton25!