What happens when a car designer for the Indy 500 falls in love with the sleek-bodied German race cars of the 1930s? You get the wildly dramatic street-legal roadster unlike one you've ever seen before. You get the 1948 Norman Timbs Special.
Norman Timbs, based in Los Angeles, was something of a hot commodity in his day. He was one of the guys who helped build the Tucker 48 alongside automotive entrepreneur Preston Tucker, and he designed the Blue Crown Special cars that went on to win the Indy 500 multiple times. Not a half bad resumé, if you ask me.
Here's a guy who spent his free time from building cars going ahead and building more cars. Timbs was desperate to try something new, something unlike anything he'd done before. German cars like the 1937 Mercedes-Benz Avus Stromlinie were setting incredible record speeds at races—the kind of glory anyone with a hankering for speed would want to try their hand at.
This was Timbs' brainchild, and he was determined to create a car that exactly matched the image he saw in his mind. This was a car he was going to build by hand, even if it cost him several years and the equivalent of nearly $100,000 in today's money.
At first glance, the roadster almost looks like it's backwards. The passenger compartment is pressed right up to the front of the car and constitutes its own section. Behind it, the body is one sleek piece of bodywork that lifts up like an oversized trunk to reveal all the goodies: the fuel tank, rear wheels, spare tire, and a Buick Straight-8 engine that's nestled right behind the front seats. That bad boy could push the 2200 lb car to a speed of 120 mph.
G/O Media may get a commission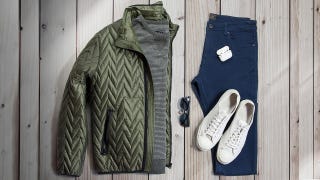 60% off
Jachs NY Fall Sale 60% Off
To keep with the overall sleekness of the bodywork, Timbs opted against having doors. It would force a break in the poetic curves that would have been too jarring for his tastes. You get to hop in like a debonair Duke boy gone to Le Mans.
The body was made entirely of aluminum with steel piping creating its notable chassis shape. The skirted fadeaway fenders, raked and split windshield, dual exhaust, and teardrop tail lamps were weaved together into a tapestry that was unlike any other car of its era. It almost looks more like a speedboat than it does a race car—but no matter what, it only takes a single glance to know this thing is going to be fast.
While it was featured in the second-ever edition of Motor Trend and an episode of "Buck Rodgers in the 25th Century", we don't quite know what happened to the beautiful car that was so ahead of its time. It changed hands and found homes with different owners, was painted white, and disappeared. It was rediscovered in 2002, baking under the harsh conditions of the California desert, and sold to Gary Cerveny of Malibu for a mere $17,600.
Cerveny set to work restoring the car immediately—and he was in luck. 90 percent of the original body was still intact (thank God it wasn't rusting away in the midwest winters), which meant there was minimal guesswork involved in bringing the car back up to its 1948 glory.
The roadster was fully made over in time for its debut at the 2010 Amelia Island Concours. Dressed in deep wine red paint and curves like gently rolling plains, it easily won the RM Auctions Trophy for Best Open Car.
The Norman Timbs Special is a gentle reminder to keep an eye out for diamonds in the rough. Who knows how many one-of-a-kind beauties have been wasting away in barns or backyards without someone to deliver a little tender loving care.