McLaren just confirmed rumors that it's building an F1-inspired three-seater sports car for 106 very, very rich people. Here's what we know.
McLaren's Special Operations division, conveniently abbreviated as MSO, fulfills custom orders from customers who think buying a supercar "off the rack" is for filthy animals, and it's going to be responsible for developing what McLaren calls the "world's first 'Hyper-GT.'"
It's apparently going to be the snazziest McLaren ever, with company saying in the press release the car will be "the most exquisitely crafted and luxurious road-going McLaren to date."
The project is called Bespoke Project 2, or BP23, and McLaren's CEO, Mike Flewitt, says it gets some inspiration from the legendary F1:

BP23 will borrow the three seat layout with the central driving position made famous by the iconic McLaren F1
G/O Media may get a commission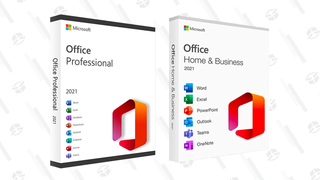 89% off
Microsoft Office Professional 2021 Lifetime License
BP23 also sounds like the name of an industrial cleaning solvent.
McLaren went on to say the car "will be housed in a streamlined, shrink-wrapped carbon fibre body of great elegance," because McLaren is incapable of making a car that is housed in an unwieldy, bloated cast iron body of great ugliness, and that it will be a hybrid designed especially for long-distance journeys. You know, because owners of ridiculously expensive bespoke McLarens like to go on long road trips in their cars:
We are calling BP23 a 'Hyper-GT' because it's a car designed for longer journeys, but with the high levels of performance and driver engagement expected of any McLaren. A hybrid powertrain will make it one of the most powerful McLarens yet created but the car will also deliver the highest levels of refinement, enabling significant journeys to be undertaken with up to three people aboard.
Those 106 buyers (you'll recall that McLaren only made 106 F1s, as well) will get to work with MSO to choose everything from interior and exterior colors, trim, and even custom switchgear.
As for the exterior design, all we have officially from McLaren is the teaser above (the topshot is just a mockup we used with permission from Autocar), the fact that the car will have three seats, that bit about a "shrink-wrapped carbon fiber of great elegance," and the fact that the car will have powered dihedral doors with ""apertures extending into the roof."
McLaren says all 106 cars are sold out, and that they expect to start delivering the road tripping McLaren in early 2019.
By 2025, all of them will have 200,000 miles on them. Except not. Not at all.