Good morning! Welcome to The Morning Shift, your roundup of the auto news you crave, all in one place every weekday morning. Here are the important stories you need to know.

1st Gear: Don't Stop Paying Attention, Though
Most car crashes and accidents happen at low speeds in parking garages and lots. Which is why it's very important to have good safety tech, not just for when the car is moving at speed on roads, but also during these slower crawls. Cadillac and Subaru seem to be leading the charge on that front.
Backing up at slow speeds in a parking lot poses an especially high risk of a collision, but Subaru Outbacks and Cadillac XT5s both come with automatic braking in reverse. Handy! This helped the two cars score a superior safety rating from the Insurance Institute for Highway Safety, according to the Detroit Free Press.
From the story:
Most car accidents occur at low speed, with the vast majority happening in parking lots and parking garages, according to police and insurance data. Cadillac and Subaru rank highest in the study because they safely navigated the most challenging obstacle courses in reverse.

While many automakers offer rear cameras, rear sensors and beeping alerts on new cars — which notify drivers of objects in the path of the vehicle or crossing behind the vehicle — not many offer automatic braking in reverse.
G/O Media may get a commission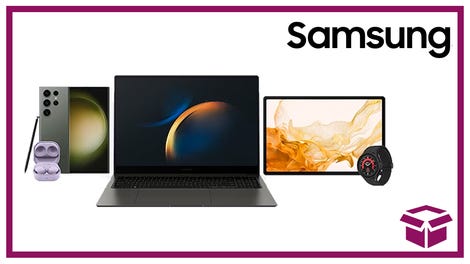 24 hour deals
Discover Samsung - Daily Deal
That's actually pretty cool! I'd would love it if more cars did this, if they would brake in addition to beeping, flashing indicators and generally freaking out at me when the sensors pick up something in the way.
It doesn't mean that you can all of a sudden back up with reckless abandon, though. These features are not a safety net and they don't take the place of physically looking to see where you are going. Don't ever stop doing that.
Oh, and get excited for this to make your next car more expensive too.
2nd Gear: A Replacement Is Named
Yesterday, it came out that Ford's North America president, Raj Nair, would exit the company effective immediately following some unspecified but admitted inappropriate behavior. And his replacement has just been named.
Kumar Galhotra will be Ford North America's group vice president and president, Ford announced today in a press release. It stated:
Kumar Galhotra, 52, is appointed group vice president and president, Ford North America, effective March 1. Galholtra will be responsible for leading all aspects of Ford's North American business. He will report to Jim Farley, Ford executive vice president and president, Global Markets.

"Kumar is an incredibly talented executive with a special feel for product and brand. He is also a seasoned leader who knows how to drive a business transformation," Farley said. "Kumar is the right person to lead our North American business to new levels of operational fitness, product and brand excellence, and profitability."
Galhotra has worked at Ford for 29 years and has been in charge of Lincoln since 2014. He's also credited with putting Lincoln back on track after years of neglect and irrelevance.
It is still unclear exactly what sort of inappropriate behavior Nair was accused of, but he publicly apologized for it after Ford conducted an official internal investigation.
3rd Gear: New Uber CEO Chillin' With Toyota 
There was no doubt that Dara Khosrowshahi, who replaced ex-Uber CEO Travis Kalanick, has some serious housekeeping to do. He has to deal with pulling Uber out of the ethical/legal muck that it's gotten into, navigate local employment laws and, like, somehow stop burning through all that cash. But the company still gunning for autonomous cars and it looks like it is considering Toyota as a partner.
Yesterday, Khosrowshahi tweeted his photo of himself, hanging out with Toyota president Akio Toyoda at the Toyota headquarters. "Great discussions about growing our #autonomous partnership," he wrote.
Though Uber and Toyota have been mum about an autonomous tech collaboration, Khosrowshahi has said that autonomous cars will be on roads soon, according to Bloomberg.
From the story:
Khosrowshahi's meeting with Toyoda shows his commitment to continue developing the technology with partners. For Toyota, closer ties could help it keep up with rivals like Nissan Motor Co., which is working on its own autonomous solution.

During his Asian trip, Khosrowshahi made it clear the ride-hailing company isn't scaling back its ambitions in certain regional markets, despite speculation of a retreat. It will keep investing to become No. 1 in the country versus local rival Ola, he said. In Japan, Uber's willing to forge partnerships with Japanese taxi companies in order to succeed, though Uber has less than 1 percent market share and only offers limited services there.
Obviously, this is Khosrowshahi moving to put the messy legal battle between Uber and Google's Waymo behind him. A $245-million settlement is a decent chunk of change for anyone. A partnership seems to be the way to go.
4rd Gear: We're Probably Not Done Yet
Volkswagen's Dieselgate scandal opened up countless investigations into automakers over whether or not they are complying with emissions regulations. The dust for Volkswagen seems to be settling somewhat, but there are still some who think it needs to be held even more accountable for what it did.
Darrell Issa, a Republican lawmaker from California and former chairman of the House Oversight and Government Reform Committee, said that a new congressional investigation is "almost inevitable," reporters Bloomberg. From the story:
"There is a growing sense executives need to be held accountable," he said, adding that an earlier settlement reached between U.S. regulators and Volkswagen in 2016 didn't reflect the scope of current "global conspiracy that we now understand."

Issa, who said he had been in discussions with about a dozen other lawmakers, said the testimony of key Volkswagen and Porsche executives could be sought as soon as April and that they may seek to compel their testimony if they don't provide it voluntarily.
A new probe would definitely throw a wrench in Volkswagen's big plan for investing in electric cars, including its intent to spend $82.5 billion (billion with a "b"!) on them over a span of the next five years. I guess something like Dieselgate will do that to you, shake you up a bit, realign your priorities.
Guess we'll just have to wait and find out about that new probe.
5th Gear: What A Champ

Have you heard? Tesla is missing Model 3 production goals because of issues like "manufacturing bottlenecks." Which means that the Model 3 is in high demand. You can find them on sites like Craigslist with massive markups.
This hasn't escaped the notice of Kimbal Musk, certified Cowboy Hat Man and brother of Elon. The man with the hat plans on using that demand to benefit his charity, Big Green, which plants gardens in urban schools to grow healthy food, writes Bloomberg.
From the story:
Kimbal Musk plans to raffle off his personal Model 3, the sixth ever built, with tickets starting at $10.

Big Green, the charity that stands to indirectly benefit from the Model 3 shortage, has already built gardens that grown healthy food in 500 schools in Chicago and other cities. Kimbal Musk, a trained chef and restaurant owner, said his charity helps young kids learn about the science of growing food and the benefits of eating carrots and kale. "Cafeteria workers say the kids don't want to eat vegetables," he said. "If they grow the kale, they devour it."
If the hat says so! Anyway, it's for a good cause. So.
Reverse: Good Going Lee Petty!
Neutral: How Much Do You Rely On Safety Features?
Can you not live without them? Or do you ignore them and drive around the old fashioned way: Alert and with your eyes open?