As you can probably tell by their groans of pain and how they corner passers-by, begging them for the sweet release of death, the Grumman LLVs (Long Life Vehicle) currently in service as U.S. Postal Service trucks are at the end of their long lives. There's an intense competition to find what will be the next postal truck, and here's an entry we haven't spotted before: the Turkish Karsan USPS prototype.
Karsan Otomotive has been around since 1966, and has mostly been building light commercial vehicles based on models from Peugeot, Renault, Hyundai, and Fiat.
Karsan's entry is said to be a plug-in hybrid; at least half of the entries are hybrid vehicles, since better fuel economy is a goal for the Post Office. The Karsan truck has the same chunky, boxy look as many of the other prototypes do, which makes sense, since this is a vehicle for which cargo volume, durability, and ease of servicing are more important than aerodynamics or styling.
G/O Media may get a commission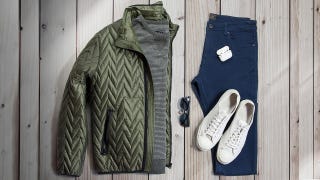 60% off
Jachs NY Fall Sale 60% Off
What's up with that giant black belt that's going over the truck, right behind the cab?
Even so, I sort of like the look that the Karsan ended up with: purposeful and strangely futuristic, in a sort of dystopian way.
It appears that every edge that can possibly make contact with any other object is made from black rubber, which is a good idea. A postal truck should be able to absorb minor scrapes and bruises without any needed action at all, and this is one good way to achieve that.
The upper part of the cab over the windshield sort of looks like it could roll up to open, but I don't think that's likely, since I can't think of why you'd want to do that. There also appears to be a charging port on the right and a gas filler on the left.
Karsan is developing the chassis and drivetrain, but the body appears to be built in partnership with Morgan Olson, a Michigan-based company that has been building walk-in delivery vans for decades.
Where's the air intake on this thing? That black rubber expansse of accordion folds and ridges and terraces and shelves up front doesn't appear to have any vents or air intakes that I can see. Maybe it's perforated? I can't really tell.
The door layout is interesting; there's a door for the driver on one side, and on the other is another narrow, vertical door, set into nearly the very middle of the van's length. There's also the expected rear roll-up cargo door as well.
Like all of us, I'm at the edge of my seat to find out what the new delivery vehicle that will be bringing me car parts from eBay and taking my stalker letters to Nathan Lane will look like.
Will it be Turkish? Indian? American? Who knows?