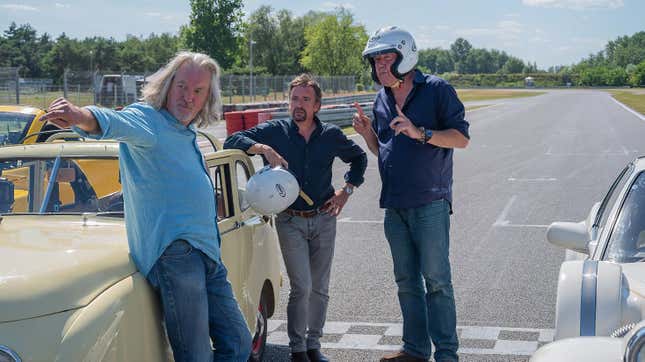 The Grand Tour has released a new trailer for its new feature-length episode titled "Eurocrash." Jeremy Clarkson, James May, and Richard Hammond are reuniting for a 1,400-mile road trip across Central Europe from Gdańsk in Poland to Lake Bled in Slovenia. The trio are getting up to their usual hijinks with a Cold War-era twist.


The episode title "Eurocrash" is stylized in mock-Cyrillic and Clarkson stating, "We're going behind what used to be the Iron Curtain," setting the theme for the trailer. Though, Clarkson, May, and Hammond won't be going on the epic journey in Eastern Bloc machinery. Clarkson will be behind the wheel of a Mitsuoka Le-Seyde, a strange 1990s Japanese car built around a Nissan Silva S13. May and Hammond will be driving American vehicles, a 1940s Crosley convertible and a 2000s Chevy SSR.
During their trip, Clarkson, May and Hammond will visit a historic Formula Easter event, the Cold War-era racing category when single-seater racing cars were built out of components from production cars. The group also head to a wax museum in Kraków, Poland with a hilariously awful wax sculpture of British F1 champion Nigel Mansell.
It should be noted that the trailer is set to "The Final Countdown" by Europe. While it could just simply be an easy nod to the 1980s, the song could hint at this being the final or one of the last episodes of the Grand Tour. Amazon won't be negotiating a new contract with Clarkson when his current deal expires in 2024 after his disgusting newspaper column about Meghan Markle.