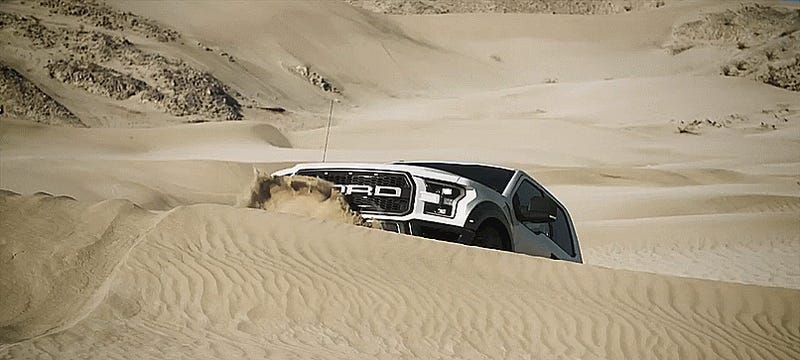 The Ford Raptor is unequivocally the baddest factory off-road pickup truck in America. At the end of this year the new one comes out, in Ford's aluminum F-150 bodystyle with an aggressively-tuned 3.5 EcoBoost engine. Here it is being driven exactly the way you'd want to.

Ford, in their infinite marketing wisdom, is apparently dropping six videos like this over the course of the coming weeks to keep the hype-fire on stoke as the new truck goes to market Fall, 2016.
This clip is called "Jaw-Dropping Off-Road Agility And Capability." Immodest, but accurate. All up we're going to see:
Video 1: F-150 Raptor's jaw-dropping off-road agility and capability
Video 2: All-new BF Goodrich KO2 Tires
Video 3: Six preset driving modes that optimize F-150 Raptor's performance for virtually every terrain
Video 4: Long-travel suspension that is the crown jewel of F-150 Raptor
Video 5: How great design enhances F-150 Raptor's capability
Video 6: Ultimate off-road capability
What? No hypermiling challenge? Bummer.
Over the last few years I have driven many Ford Raptors with both the original 5.4 V8 and the updated 6.2 in various suspension and tire configurations. One of the prerunner Raptors I've used a few times in Baja has a supercharger slapped on the bigger engine, and sweet ten pound nine ounce baby Jesus, its fury is boundless.
The bottom line is every properly put-together Raptor is pretty good, and said "goodness" is directly proportional to the engine's output.
Some folks are skeptical of the next-gen Raptor since it dumps the 6.2 V8 for a turbocharged 3.5 V6. Guys, if it's good enough for the Ford GT, it's going to have enough juice to do donuts in the sand.
I mean, don't forget to Tread Lightly y'all.
I'm actually more excited about the paddle-shift ten speed automatic. The lack of gear-control is one of the only things missing from the Raptor experience, and adding that plus the surging rush of two turbochargers is really going to make the next truck a riot to operate.
By the way, if this inspires you to buy a Raptor and you've never been off-road before do not drive this fast or you will break something for sure. Go see my friend Ron Stobaugh and learn some moves first.