Please put your stupid hairdresser jokes aside for now because the 2015 Audi TT is a pretty special piece of kit even if it didn't turn out to be the fastest thing on a tight mountain road.
[Full disclosure: Porsche Hungaria would have given me this TT for a week two months ago, then somebody else wrecked it two days before I was supposed to pick it up. It took quite a while to find another spot in the calendar once the car got fixed, but they kindly made this happen anyway in the land of single test car fleets. Cheers!]
Let me start by telling you that I'm a bit biased towards this car, because Audi TTs have always been made in Hungary in what grew to be the largest engine factory in the world. I've been there just recently, and once I also manage to get a photographer inside, we'll have more on how they turn those giant rolls of aluminum into cars while the engines are getting ready next door at a whopping rate. It's a pretty amazing operation.
In accordance with Volkswagen Group traditions, Europe got the TT much earlier than America, and while only the TFSI Quattro and the more aggressively styled TTS make it to your shores, the base car here is front-wheel drive only with a 180 horsepower 1.8 turbo. You can even opt for a 2.0 diesel that produces a 184 horsepower and 280 torques, although I have no idea why anybody would choose that.
G/O Media may get a commission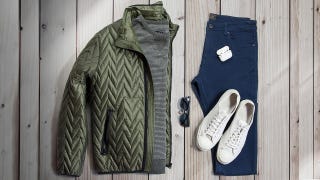 60% off
Jachs NY Fall Sale 60% Off
My test car was the 2.0 TFSI Quattro with 230 horsepower and 272 ft-lb of torque that's only available with a six-speed S tronic dual clutch. I also had the full S line package both inside and out, Alcantara seats and a bunch of other extras that turn the relatively affordable base car into something much less affordable in no time at all.

Those who say the TT is just a Golf in drag are pretty far from the truth, because while this is indeed an MQB car just like all Golfs, the Skoda Octavia, the Seat Leon, the Audi A3/S3 and a bunch of other VW products, the TT uses a shorter wheelbase and an aluminum construction while the others stick with steel. (By the way, all those cars I mentioned are really great cars on their own.)
And that is why the base TT weighs just 2,877 pounds with the Quattro coming in at 3,186 lbs compared to the 3340 lbs the all-wheel drive Golf R shows on the scale.

The first thing that stuck me as I jumped in is that they don't really make that many cars like this anymore. The TT feels compact and has such a simple yet focused interior that there's no question about its purpose. It's a small coupe designed to go fast.
To put that to the test, I drove up to the mountains around Budapest at night to see what it can really do. Two-hundred thirty horsepower is Golf GTI territory, but this engine is more about the torque anyway and with only this much metal to carry around, the TT accelerates just fine. It also feels agile on the move, but tight corners draw a line you don't want to cross with this one. Like all previous TTs, this third-generation also understeers once you start pushing it harder.
I had the lowered sport suspension but not the magnetic stuff, plus a set of Hankook tires on my 19 inch RS wheels. Since those didn't feel grippy at all, maybe some better rubber could improve cornering speed, but with this setup, my TT liked to go into the corner slowly and accelerate out of it much faster to make up for it.

That's okay though. Those who want more power will buy the TTS, and the real performance junkies can always just opt for the TT RS that Audi will certainly announce soon enough. This 2.0 Quattro isn't here to set the tarmac on fire.
Yet it comes very much alive on open back roads with long straights and fast corners, and with all those childish bangs and pops coming from those exhausts when you shift at high revs, it still can be a lot of fun at speed.
Would it be better with a manual? I believe it would. It would be more involving. There's no real need for the dual clutch here, and although the S tronic works well enough like all DSGs, it also happened to be quite jerky shifting from neutral to first gear on a couple of occasions. The shifter also felt cheap and plasticy at every touch despite the S line leather treatment.

As for the steering, it's super light. Ridiculously light in fact, but accurate and fast enough to get a pass here. There's mediocre feedback and once you turn everything to sport, on comes that artificial heaviness as well, but I've seen much worse, and since the car isn't tuned to be such a sharp tool anyway, it really doesn't take away much from the driving experience.
This car is all about the styling with its flared wheel arches, aluminum filler cap and hidden rear wing that I'm almost certain does absolutely nothing at high speed, and while I find the exterior to be very pretty as well, it's the cabin that takes the cake in my eyes.
The rear seats are completely useless of course. We didn't even manage to fit a child seat without it touching the front seat, so it won't baby properly. On the plus side, what's in front of the driver is a minimalist dream come true.
There aren't that many buttons to play with, and most of the functions including the driving mode selection is accessible from the steering wheel. And with Audi's brand new Virtual Cockpit in front of you displaying all the info on the wide screen, the touchpad on the central console doesn't have to see much action. But since you'll need that to program the navigation, know that you can even draw the letters with your finger and wait for it to recognize what you want in case scrolling through the options seems more time consuming.
My only complaint is that the buttons on the steering wheel really feel like Golf buttons, and when I was driving Golfs, I though those shouldn't have made it further up the lineup than a Polo. They just don't feel premium at all, and you'll be touching them all day long. Funny enough, you get the same buttons in the new Audi R8, so there's that.
The virtual cockpit is awesome and makes so much sense that I honestly have no idea why it took so long. And yes, the car thought I had a problem with my tire pressure at the rear. Whatever.
The rest of the cabin is equally well-thought-out. You get manual seats that sit low, five giant vents with integrated dials and five buttons in the center of the dash. Everything else is controlled either by the touchpad on your right or the scrolls and buttons on the steering wheel. That's it.
It probably takes about two days to get used to the menu, but that's no worse than with any new system. If it also had a manual and a proper handbrake instead of the electric nonsense, it would have been perfect.
Finding the perfect drive mode is also very easy. Since you can actually put your individual mix into the memory bank, just put everything to "dynamic" except for the gearbox. That should do the trick for most.
That brings me to fuel economy. I went fast, I went slow as I got stuck in traffic only to make up that time on the highway. I certainly wasn't hypermiling at all, yet the TT averaged 33 MPG on my way back to the city.
I would be happy with that on any day in exchange for 230 hp and all-wheel drive.
If there's one thing that can ruin the party is how much Audi charges for the extras. The base 2.0 Quattro is not a bad deal at all (starting at $42,900 in America and $49,594 here), but once you start adding this and that, the TT gets outrageously expensive. Of course your deals might be completely different in the U.S., but get this:
The red paint? $874. Those 19 inch forged aluminum wheels? $2,651. S line exterior and all the bits that come with it? $1,958. S line interior and performance upgrades? $3,254. The heated Alcantara seats? $607. This is no Porsche, yet they seem to be using the same calculators.

You are obviously very interested in this car because we got tons on questions about it, and the good news is that Mike Ballaban will drive it very soon to give you his American opinion as well.
Haters might as well just keep on hating this thing, but I would daily the living hell out of it without any shame. The TT is the right size, comes with a a nice cabin, doesn't need much fuel and although it might not be a hardcore sports car, it still does those loud bangs once in a while to remind you that it's driving is meant to be enjoyed.
Isn't that enough?
Photo credit: Máté Petrány/Jalopnik
Contact the author at mate@jalopnik.com.