This is The Morning Shift, our one-stop daily roundup of all the auto news that's actually important — all in one place at 9:00 AM. Or, you could spend all day waiting for other sites to parse it out to you one story at a time. Isn't your time more important?
1st Gear: Sell All The American Cars!
From Motoramic comes this great news that the remains of a small-town Chevy dealer's collection, built up over 50 years, is finally going up for auction.
The owners of Lambrecht Chevrolet in Pierce, Nebraska built up around 500 vehicles over the 50 years of business, mostly through trade-ins, and left those cars to gather dust when they closed up. The cars came to represent "a lifetime of hard work, tears, and joy" says the daughter of the Lambrechts.
G/O Media may get a commission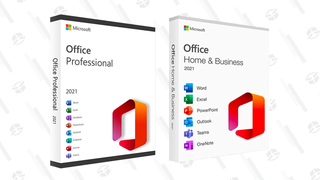 95% off
Cyber Monday - Lowest Price Ever - Microsoft Office Lifetime License
Their hard work can be your gain when the vehicles go up for auction this fall. Just take a look at what's for sale [PDF]. There's a Vega wagon with only 17 miles! And did we mention all the Corvairs?
While most of the cars are older GM products, there are some other great finds including a relatively low-mileage '70s International 4x4 pickup and a Kaiser Sedan.
Which would you pick?
2nd Gear: The Global Cadillac And Buick And Holden Musical Chairs
The world loves Cadillacs and Buicks and, here in the U.S., we're surely warming up to them. This has a lot to do with placement and, especially in the case of Cadillac, in them no longer looking like nothing more than Landau-roofed Chevy boats.
Holden's design director Andrew Smith will now head up design for both brands, globally, which is a huge challenge. We know what a Cadillac is supposed to look like now and Buick, at least, is starting to coalesce around a shared language.
He replaces Mark Adams (pictured), who was responsible for overseeing the new Cadillac CTS and our beloved Cadillac ATS. Now Adams has to go to Europe to untangle the Buick-Opel mess reports Automotive News.
Smith, despite the success of the brands he's taking over, probably has the better deal here.
3rd Gear: The Infiniti Challenge
Infiniti, despite some enjoyable products throughout the years, has never become Nissan's Lexus. Nor has it become Nissan's Acura which, given current conditions, maybe isn't a bad thing. Nissan starts over.
The Wall Street Journal brings us this story about former Audi head Johan de Nysschen's attempt at remaking Infiniti from scratch and the billions they're going to spend to do it.
"This is like a startup company," says Infiniti President Johan de Nysschen. Mr. Ghosn personally wooed Mr. de Nysschen away from Audi last July to lead the Infiniti makeover, just a few months after he moved the brand away from Nissan's working-class roots in Yokohama to Hong Kong—closer to the booming Chinese luxury market. Since then, Mr. de Nysschen has installed a new management team poached from high-end German car makers.
The big challenge? Explaining what an Infiniti is.
I know what a Lexus is. I don't think a Lexus is the car for me, usually, but I know who the car is for and I don't begrudge them buying one.
4th Gear: And More About That Honda/Acura Challenge
We've got de Nysschen trying to help out Audi, Adams trying to help out Opel and GM in Europe, and Mike Accavitti to aid in a refresh of Honda and Acura.
Brent Snavely takes a look at Accavitti, who got his start working for Lee Iacocca (pictured) after sending him a letter, it's a cute story. But here's the meat:
After looking at consumer surveys Accavitti discovered that Acura's buyers purchase the cars for rational reasons, and it's often hard to sell a luxury brand based purely on a rational basis.

"We need to create an emotional connection between the customer and the brand and marketing can do that," Accavitti said.
With Honda, Accavitti wants to build on the core values such as innovation, a youthful feeling and reliability.
Right now Acura's approach appears to be: Fake it till you make it. But they have to make it.
5th Gear: How To Make Gearheads
The folks at Hagerty Insurance, the ones who deal with insuring our crazy classic car collections, have always seemed to me to be real car people. Every person I've worked with there appeared to have a passion for the automobile and a desire to live the lifestyle their company supports.
This story from The Detroit News supports this belief I have.
About 123 people helped rebuilt a 1969 Camaro SS through volunteer labor, skipped lunch breaks, and the like.
Many of the people who work for Hagerty are classic car experts with years of hands-on experience at maintenance and restoration. But many others don't bring such experience to their jobs, so every year or two, the company finds a vehicle in need to restoration, recruits employees willing to get down and dirty, and rebuilds a car in the company's garage.
This particular car was majorly damaged but, through hard work, saved the vehicle.
Here at Jalopnik we make sure all of us get together and stalk one person to make sure we connect with our company's values. Next year it's Ralph Gilles so… that sound you hear in the bushes is us!
Reverse: Route 66 Reaches The End Of The Road
Beginning in the 1950s, the building of a massive system of interstate highways made older roads increasingly obsolete, and by 1970, modern four-lane highways had bypassed nearly all sections of Route 66. In October 1984, Interstate-40 bypassed the last original stretch of Route 66 at Williams, Arizona, and the following year the road was decertified. According to the National Historic Route 66 Federation, drivers can still use 85 percent of the road, and Route 66 has become a destination for tourists from all over the world.
[HISTORY]
Neutral: Which Luxury Brand Has The Strongest Identity? What are the identities of all the luxury automakers? Which one is the strongest?
Photo Credit: Getty Images