Clean. Tasteful. Elegant. These are not adjectives I tend to reach for when we're looking at a car converted into a pickup truck, but this 1979 Mercedes-Benz 300TD-El Camino lovechild is one of the prettiest Jimmy Carter-era Mercs I've ever seen.
It's a classic diesel car with heaps of utility and a sporty interior, what more could you possibly want? I know, three pedals. Well... too bad.
This beauty is for sale right now, and is apparently fully-functional down to the tailgate. Seller says it began life as a standard non-turbo 300TD, and was converted "some time in the 80's" by Bill's Auto & Body in Wisconsin using a "1980's era" Chevrolet El Camino bed, rear window, and trim.
Period-matching blue cloth Recaro seats take the interior up another notch, and did I mention how unbelievably clean the gauge cluster is? Seriously, it's like a damn surgery studio.
G/O Media may get a commission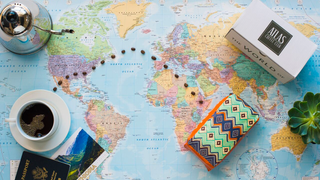 First Bag Free
Atlas Coffee Club - Free Coffee
Explore global coffee
With each bag, Atlas includes details on the coffee's tasting notes and a postcard about the region and its coffee history. And when you subscribe, you have options to tailor frequency, grind size, and roast preference of your beans, so you'll always be brewing the perfect cup.
This Mercedes is not actually perfect, I can see a few chips and tiny spots of surface rust here and there. But I can't stop drooling over over how tidy the shape of this thing is. That rear window curve, the swoop from the roof to the bed, the wood-trimmed tailgate!
I'm gonna stop myself short of saying I wish Mercedes had made this at the factory, but it's an absolutely sextacular custom job and I hope someone brings it home who loves it forever.
Hat tip to Tristan!