One member of the Japanese Nostalgic Car board put it best. "Those cars don't even look real they are in such great shape." Indeed, the German owner of two Toyota Tercels, 1980 and 1984, has kept them in ridiculously perfect condition.
What's the secret? Buy from the elderly. The 1980 Tercel's former owner was a 90-year-old man who only used it for local errands. The 1984's 86-year-old female owner drove it once a week for shopping. The cars have 22,000 miles and 48,500 miles on them, respectively.
(The Tercels' new owner also has a mint-condition 1986 MR2 he bought from a dealer with 137,000 miles on it.)
But seriously. Have you ever seen two 30-year-old economy cars (outside of a museum) that looked so showroom new? You'd almost swear the former owners kept them in cosmoline for the first 20 years, and then stored them in Intel's "clean room."
G/O Media may get a commission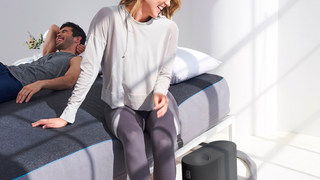 Eight Sleep Pod Cover