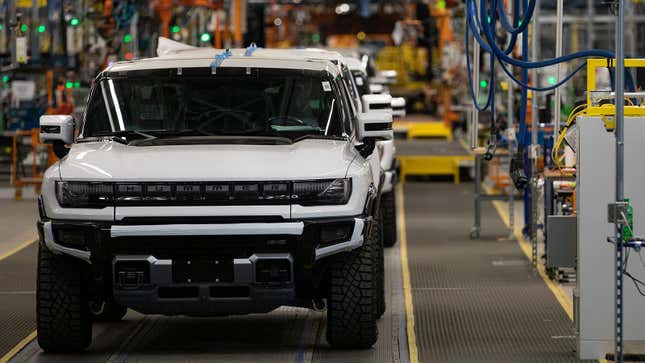 In recent years, America's big three car makers have announced all manner of expansions to ready themselves for the electric car revolution. Now, as they prepare to populate these new and upgraded factories with workers, the United Auto Workers are preparing for unionization battles over the plants, and they don't sound easy.

A new report from Bloomberg outlined the challenges faced by UAW as it attempts to represent the 18,000 workers GM, Ford, and Stellantis plans to hire at its new EV plants, many of which are joint ventures with other companies. Uniting all those workers across different sites run by different companies is at the core of the challenge. Automotive News explains:
One of the plants that demonstrates the complexity involved in the EV battery facility talks is the Ultium Cells LLC plant in Lordstown, Ohio, a joint venture between GM and Korea's LG Energy Solution Ltd. The UAW represents 1,100 workers there, but because they're employed by the Ultium JV rather than GM directly, they aren't covered by a master labor contract the group negotiated with GM, Ford and Stellantis four years ago.
While workers at the Ultium are organized and fighting for a contract, once agreed it won't be applicable to workers at other EV facilities. Instead, UAW will have to run organizing drives and bargain locally at each site.
Meanwhile, Ford has plans for three sites with SK On and one with Chinese partner CATL in Michigan; Stellantis will open a new plant with Samsung SDI in 2025; and GM has three U.S. battery plants coming with Korean partners, so the UAW will have its work cut out for it.
That process isn't one UAW hopes to get caught up in. Instead, it wants to get workers at the Ultium aligned with its master labor contract with GM. This could then set a precedent to align other joint venture sites with contracts held by Ford and Stellantis as well.