Good Morning! Welcome to The Morning Shift, your roundup of the auto news you crave, all in one place every weekday morning. Here are the important stories you need to know.
It's Labor Day! The last day of summer! What are you doing in front of a computer? Go out and enjoy the day, you jokers. Our staff is off today but we have some good stories in the can ready for you in case you get bored, plus the intrepid Kat Callahan will be running the ship for a while. (I made her work today because they don't have Labor Day in Japan. I think.) (Ed note: Yes, Patrick, we do. It's combined with Thanksgiving, and called Labor-Thanksgiving Day. It is usually on or around U.S. Thanksgiving. —Kat)
As for me, I'll be working on a bookshelf I'm building, finally going to see Straight Outta Compton, and mulling how hard it would be to do a manual swap on an R107 Mercedes-Benz SL... what do you think?
I'll be around a bit so feel free to ask me whatever you want about anything. I make no guarantees that my answers will be good or even make sense.
Louis Meyer, youthful California speed king, at the wheel of his racer after winning the 200 mile Labor Day automobile races on Sept. 3, 1929 at Altoona, Pa. This is his third consecutive triumph on the local track and gives him an added 400 points to his season's total by which he wins the A.A.A. Speedway Championship for the second straight year. Meyer's time was a little over 1 hour and 46 minutes. (AP Photo)
G/O Media may get a commission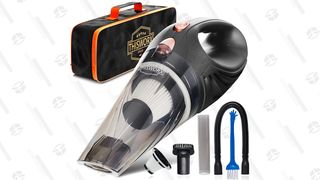 Save 50%
ThisWorx Car Vacuum Cleaner
---
Contact the author at patrick@jalopnik.com.