Yes, these are actors at the world premier of the new Mercedes V-Class showing how happy a family can be just by owning a Mercedes-Benz V220 with all its accessories. It's a bit ridiculous, but Mercedes has a point. Other premium brands don't have an MPV at the moment.
That's also probably why they held the premier in Munich instead of Stuttgart. Having a party at the heart of Bavaria sends a message.
Unlike its competitors, Mercedes-Benz builds everything from buses and trucks to Unimogs, and maybe that's why after we published the first shots of the V-Class on Thursday, some of you commented that it's nothing more than a fancy panel van.
G/O Media may get a commission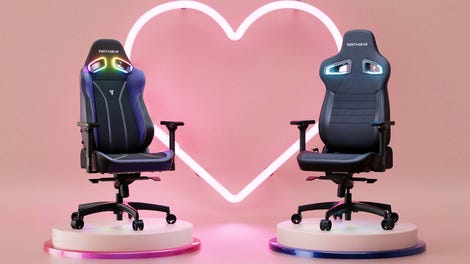 Up to $150 off
Vertagear Gaming Chairs
I'm afraid that's utter bollocks when it comes to the 2014 model. The V-Class is not a simple rebadging exercise of the Viano but a brand new car from the ground up. It has nothing to do with any panel van. Mercedes wanted to integrate its minivan into its passenger car portfolio, and in order for it to fit, they put as many features of the S and C-Class into this car as possible.
It's a big step forward in terms of quality. I know because I was driving it's predecessor, the 2013 Viano Grand Edition (meaning "hey, we know it's an old car, so have it with mountain crystal white metallic paint, a black-painted radiator grille, 19-inch alloys with 245/45 tires, a satin-finish burr-walnut look interior and a 'Grand Edition' badge") on our way to Munich. This car, to be exact:
With the smaller four-cylinder diesel engine and the automatic gearbox, it managed an average of 24 mpg, and while it was fairly comfortable, the driving experience and the cockpit did remind me of a commercial vehicle. No matter, the Viano's career is over.
It's hardly news that most of the V-Classes will be used as shuttle vehicles, taxis or maybe even rolling offices, and for that, the new generation has a better interior with surround sound, nappa leather seats and individual climate control, all of which are optional extras of course. Asian custumers will also be happy to hear that the V-Class will be available with three body length, making sure to provide enough legroom for everybody.
But let's forget about the business duty for a second and look at the V-Class as a family car. Yes, it's massive, but with the R-Class gone, this is what you can get in case your family outnumbers an E-Class wagon's capabilities and you can still afford a Mercedes. They put a lot of effort into making this work as a car.
For starters, it's only 74 inches tall in order to fit in a normal multi-story car parks. It can also be equipped with up to fourteen different sensors to keep you safe.
Crosswind and attention assist comes as standard. The former uses the ESP to brake wheels individually in order to compensate the effects of strong winds. Active above 50 mph, it ignores weak crosswind signals and automatically switches off if the driver makes a rapid steering movement.
The other standard gadget, the latest generation of attention assist analyses the driver's behavior based on more than 70 metrics. Don't ask how exactly, but the list includes time of the day, duration of journey and speed, steering movements, acceleration, yaw rate and driver actions such as operating the radio. Naturally, it's also checking the time elapsed since your last break. So expect to see that familiar coffee cup quite often. Luckily, the system is customizable and stays active only between 37 and 124 mph.
Mercedes also thought about the problem of misbehaving children distracting you from driving. Therefore, a microphone is installed in the cockpit that's linked to the sound system so you don't have to turn back anymore in order to advise your kids to quite down.
If you dig deeper into your pocket, a whole army of toys gets into action. Active parking and collision prevention assist, traffic sign reader with wrong way warning, adaptive high-beam and an all-LED light system makes the V-Class the most advanced minivan ever. In fact, the only reason it couldn't get the 'magic body control' from the S-Class is because it's using a more traditional setup with a McPherson at the front and semi-trailing arms at the back.
However, The V-Class Avantgarde comes with frequency-dependent damping as standard. Can't wait to see the first V-Class Hoon Of The Day.
At this point, you might be thinking about fuel economy since no matter how easy it is to park with all those cameras, the V-Class is still the largest thing in the school's parking lot.
The engine launched in Europe is a 2.1-liter common-rail diesel with a two-stage turbo and an on-demand oil pump.
Different tunes mean the least powerful comes with 136 horsepower while the top of the range model has 190 and is only available with the 7G-Tronic automatic. The middle child, the 163 horsepower 220 CDI produces 280 ft.lb of torque and Mercedes is claiming 41 mpg. If you think about our Viano's 24 mpg figure, that's a big step forward.
With all that technology and the separately opening rear window in mind, the V-Class should indeed work as a family car. A rather pricey one of course, but if your neighbor has an upgraded Volkswagen Multivan, at least you win hands down.
So, how about America then? Well, my guess is that you would want a gas engine, and there's no word on that yet.
Would you be up for it?
Photo credit: Máté Petrány/Jalopnik