I beseech you to try and take issue with the Mercedes-AMG GT. You can't. Even if that's not the six-figure sports car you'd buy, it's hard to have problems with that howling 503 horsepower twin-turbo V8 in such a sexy package. One thing that would make it even more interesting would be an extra set of doors and seats. Evidently, that's what is happening at the Geneva Motor Show this week.
Mercedes just gave a sneak peek on Twitter of the four-door AMG GT concept coming to the big European auto show in a few days. Right now it's just an illustration, but we'll see the real deal soon.
We don't know much about it yet, including whether it will become a reality. Maybe it's based on the AMG GT sports car architecture, maybe it just looks like one and uses a sedan platform from the other Benzes. But more than a few sources have said it could rival the Porsche Panamera in both price and performance, and would give buyers something sexier looking than, say, an E63. Whatever this thing is, it won't look like a sleeper.
G/O Media may get a commission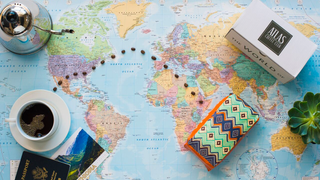 First Bag Free
Atlas Coffee Club - Free Coffee
Explore global coffee
With each bag, Atlas includes details on the coffee's tasting notes and a postcard about the region and its coffee history. And when you subscribe, you have options to tailor frequency, grind size, and roast preference of your beans, so you'll always be brewing the perfect cup.
Can't wait to see the real thing soon.