The McLaren Sports Series already comes in a few street car varieties for us U.S. Americans. There's the 570S, for sportiness, and the 570GT, for comfiness. But where is an ever-so-slightly longer version, for both raciness and longiness? Enter this, the McLaren 600LT.
The "LT" portion of "600LT," if you haven't guessed by now, stands for "Long Tail," as in 1997 McLaren F1 GTR Longtail, which attempted to compete in the FIA GT Championship, and which was somewhat successful until it was absolutely crushed by the likes of the Mercedes CLK-LM. It had lengthened and smoothened bodywork, with the aim of both lowering drag and increasing the amount of downforce, which is useful on tracks with huge straightaways like the ones at Le Mans. It wasn't the most successful car in the world, but it left a lasting legacy in legends like the McLaren F1 GT, which was not only fast but also looked very good. And also, it was long.
McLaren followed that up nearly 20 years later with the McLaren 675LT, which was a nice follow up to the McLaren 650S, but which wasn't really longer, and didn't really have any more dramatically sculpted bodywork than the regular cars, but which was crazy, face-rippingly fast.
And now there's this, the McLaren 600LT.
G/O Media may get a commission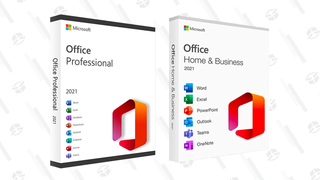 89% off
Microsoft Office Professional 2021 Lifetime License
Okay, okay, so it's not really longer, either. Well, it kind of is. It's a whole not-quite-but-almost three inches longer than a 570S, thanks to some wing-and-bumper work. But nitpicking over the name and the length like some sort of pedant is boring. This car isn't about such things.

For one, it's about THESE EXHAUSTS:
Sure, Porsche might've pioneered the whole concept of exhaust pipes pointing to the sky in production cars with the 918, but I will forever argue that this is the best design in the history of humanity and I am glad McLaren agrees.

Just look at them. So perfect. So pure. So skywards-pointing. I bet they even increase downforce somehow, because it's McLaren.

The rest of the car is extremely good, too. Power out of the twin-turbo V8 is up to 592 horsepower and torque is at 457 pound-feet, and the whole shebang is 211 pounds lighter than a 570S, so finally you can bring a friend with you, when you finally make one. And the car can get even lighter, thanks to options like a carbon fiber roof, carbon fiber buckets from the McLaren Senna, and vented carbon fiber fenders.
And yes, the buckets do look uncomfortable.
McLaren also promises quicker steering, "sharpened responses from the throttle and brake pedals," and "significantly firmer engine mounts," which is the criteria for which I always buy my car. It's all about the engine mount firmness.

McLaren says you can get a 600LT now for just £185,500, or approximately $242,156. The company went out of its way to note that its last LT, the 675LT Spider, sold out in two weeks. So you better hurry.