Let's play this year's round of "who wants to buy a struggling Formula One team?" Manor is in desperate need of saving again, as they've put the company which runs the operations of the F1 team, Just Racing Services Limited, into administration, reports Sky Sports. Administration is Britain's version of Chapter 11, so needless to say: it's not good.

Current owner Steven Fitzpatrick, who rescued Manor (née Marussia) from administration in 2015, called in administrators at FRP Advisory to help the team's operations side through this time. None of the team's recent investment discussions, including those with grand prix promoter Tavo Hellmund and Indonesian KFC branch Jagonya, have worked out.

Fitzpatrick explained to Sky Sports that the team must have its funding in order ahead of the season, or it won't start the season at all:

Not wishing to repeat events of the past, we resolved in 2015 not to start any season that we did not know for certain we could complete, so we have taken the difficult decision to put the team's operating company into administration.
Around 200 people work for the team, and none have been laid off so far. The staff has been paid through the end of December and is still working on getting the 2017 car ready. However, administrators told Sky Sports that the ability to keep paying them will rely on whether Manor can find investment in time.

Manor Grand Prix Racing Limited, the sister company which holds Manor's rights to participate in F1, is not under administration, per Sky Sports. Additionally, shipping arrangements have already been made to get the team's kit to the season opener in Australia.

G/O Media may get a commission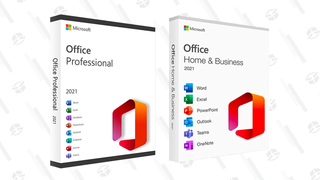 89% off
Microsoft Office Professional 2021 Lifetime License
With the Formula One season starting on March 26, there's even less time than last time Manor was in this situation to fund a rescue deal that would keep the team running next season. Administrators said in a statement obtained by Sky Sports that Manor's current owners made "significant progress" with the team, however, running a Formula One team "requires significant ongoing investment." Boy, is that an understatement.

Normally, I revel in saying "buy it" on potentially unwise vehicular purchases, but even I must admit that buying an eleventh team on the grid is a particularly bad idea.
For one, Fitzpatrick blames Sauber taking tenth place in the 2016 championship at the Brazilian Grand Prix—the penultimate race of the season—for a loss of $13.5 million in prize money that Manor needed to survive. Fitzpatrick told Sky Sports:

When I took over the team in 2015, the challenge was clear; it was imperative that the team finish in 10th place or better in 2016.

For much of the season we were on track. But the dramatic race in Brazil ended our hopes of this result and ultimately brought into doubt the team's ability to race in 2017.
Only the top 10 finishers in the constructors' championship receive prize money. Eleventh place does not, which makes an 11th team on the F1 grid a particularly hard sell.

It's been proven time and time again that Formula One has no interest in seeing its smallest teams succeed, as its very governing and payment structures concentrate all of the decision-making power and funding with teams who already have influence and cash.

While I hate to see Manor go and the F1 grid shrink again, a cat might be a better investment if you're looking to take in something that needs some love and attention.