Lucid Motors, formerly known as Atieva Motors, finally unveiled their new car, the Air, in all its maybe-it'll-look-like-that-in-production glory. It looks good, though.

Update: Here are the official pics! It's nice!
Founded as Atieva in 2007 and staffed by several former Tesla folks, Lucid—like another hyped-up and Chinese-backed electric startup, Faraday Future—aims to take on the establishment with Silicon Valley design and a factory in the Southwest, in this case Arizona. Production is said to begin in 2018.

G/O Media may get a commission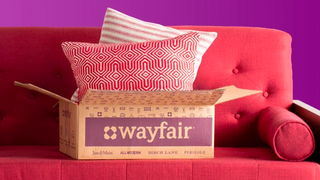 Big deals
Wayfair Surplus Sale
We're still waiting on official production-spec pics, but the first ones have spilled out on Twitter already. The company is said to use the biggest battery pack (130kWh) this side of an electric locomotive, giving the Air a claimed range of 400 miles.
The name Lucid Air sounds sort of like an airline owned by someone really into meditation. That's an improvement over the old name, Atieva Atvus, which sounds like a yogurt that helps you poop.
The Lucid Air has two electric motors, one in front, unitized with the HVAC an suspension up front, and one at the rear, integrated with the final drive. Lucid says the motors make a combined 1000 HP. I'm not really sure how that math works, either.
Tweets from the event seem to show Lucid is sticking with their performance claims:
Oh, really, Lucid? I'm sure it will. I'm also sure it'll dispense soft-serve ice cream from a nozzle on the dash, and the seat cushions will pleasure your underbits via a simple thought-command.
Maybe I'm being too cynical. Maybe it will perform like that. After all, their van-based test vehicle, Edna, hauled some pretty significant ass:
It's a striking-looking car, regardless of how it moves. There's a hint of modern Citroën about the design, and I like the subtle two-tone effect with the roof. The face of the car is a narrow blade of chrome and light, and gives the car a clean, modern look. It's notably free of gratuitous fake vents or creases and folds in the bodywork, and the overall package is sleek and elegant.
Looks-wise, I think it's a match for the Model S. Now we just have to see if it actually gets built.