I confess up front. I'm a Lotus fanatic. I have an unhealthy obsession with the small sports car company from the fields of eastern England. I have watched the Lotus website countdown since June wondering what the future would hold.
I knew that there would be radical changes. And I knew that the new cars would not be the same thing they had been making in the past. Why? Lotus could not survive making the current crop of extreme lightweight cars. It simply was not possible. They have lost money every year for at least the last 13 years since Proton bought them, probably longer. Guess how many V8 Esprits they sold in 8 years in the US? Around 750. Now guess how many of the Elise / Exige twins were sold in the US since they came out 6 years ago? About 5000. But of that around 3000 were sold in the first year. Maybe a couple hundred a year have been sold the last couple of years. Basically everyone that wanted and could afford a hard core extreme Lotus has already purchased one. Lotus was not going to survive making these cars, not unless everyone who is complaining about this new era of Lotus cars suddenly went out and bought one.
The Lotus "keep weight off at all costs" mantra is a bit of a myth for Lotus road cars. The extreme lightness principals were more geared toward racing cars, back when Formula 1 welcomed and allowed innovation. In fact weight gain is nothing new for Lotus's line of mid-engine supercars. I hear all of these people screaming "What would Colin think?" or "Colin Chapman would be rolling over in his grave". Under Chapman's watch the cars put on weight much quicker than this new era. Take the Europa, the predecessor to the Esprit. When it came out in 1966, the car weighed an anorexic 1320 lbs. But the Europa then packed on 250 lbs with the twin cam special. The Europa was replaced by the S1 Esprit which weighed just under 2000 lbs. But the weight gain continued, by the time the turbo came around the Esprit had packed on another 600 lbs, all under Chapman's watch. Finally Lotus dropped a V8 in to the brilliant Esprit chassis, but not without a 500 pound weight penalty. So a car that started under 2000 lbs ended at 3050 lbs. Now Lotus comes out with a new Esprit with nearly double the horsepower of the V8 weighing in at 3200 lbs and people freak?
Instead of comparing the weight of these to Lotus cars of the past, compare it to the competition out there currently on sale, conforming to the same safety standards. 3200 lbs with 612 HP. Find me something else out there that has that those horsepower numbers with a lighter weight. How about the Elite? It is positioned right next to the Ferrari 599 and DBS in terms of size and power. However it is 150 lbs lighter than both cars, and has a retractable hardtop. The Elan is 2800 lbs but claims to have 400 HP. Find another car with 400 hp that is even less than 3200 lbs. You can't do it.
Lotus is really all about how the car feels like when driven. People freaked when they saw the Evora was going to come in at a hair under 3000 lbs. But anyone that has driven one said that the car is fantastic to drive, with handling close to the Elise but also a huge step in comfort and refinement. The only turn off? The high price for a car with a Camry V-6. Every car magazine that featured an Evora comparison said 1) that is was the best handling 2) it was the most fun to drive, but criticized the lack of power. Now Lotus has finally given us the power we asked for all along we freak? I want to hear the driver's impressions of these new cars. If the handling is as sublime as the Evora with the power to compete with the big boys, then this is without question the best move to save the company.
Remember that Colin Chapman was not just a brilliant engineer. He was also an aggressive businessman. I really think that Colin would not have watched his company lose money for 13 years before doing something. The new era would have started long ago under Colin's watch. The company he built would be dying without a big change and I'm sure that he would support it.
G/O Media may get a commission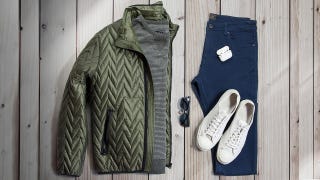 60% off
Jachs NY Fall Sale 60% Off
This piece was written and submitted by a Jalopnik reader and may not express views held by Jalopnik or its staff. But maybe they will become our views. It all depends on whether or not this person wins by whit of your eyeballs in our reality show, "Who Wants to be America's Next Top Car Blogger?"