Lexus didn't show the world the wonderful IS-F until 2007, a classic muscle car with a large car's V8 crammed into the smallest car in Lexus' lineup. But before it there was another. I mean it. There was just one.
This is the Lexus IS430, built for SEMA 2003, which explains the (surprisingly not bad) two-tone paint. It was a different time.
Put together by the great Kiwi/SoCal racer/builder Rod Millen, the basics of the car were remarkably straightforward. Out went the IS300's naturally-aspirated 3.0-liter straight six, in went the naturally-aspirated 4.3-liter V8 (also known by its internal Toyota code (3UZ-FE) from the larger Lexus GS and LS.
G/O Media may get a commission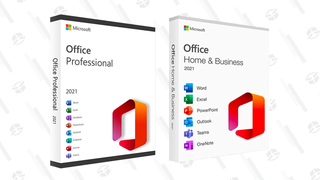 89% off
Microsoft Office Professional 2021 Lifetime License
Lexus claimed 340 horsepower and 300 lb-ft of torque, a healthy bump from the mid-200s of a standard American IS of the time, and comparable with the 333 horsepower and 269 lb-ft from the BMW M3 of the same era, even though the M3 was only available as a two-door at the time.
Charmingly, the car didn't go full auto as you might expect from a swap. The GS of the time was auto-only, but the IS430 got the now rather desirable Getrag 6-speed.
"Fitting the 4.3-liter V8 and six-speed manual transmission to the IS300 was fairly straightforward," Millen said in the car's original press release. "The larger challenge was to develop an electronic interface that would allow the V8 engine to work with the manual transmission and IS300 body—something it was never designed to do."
Weight was slightly up at a claimed 3,350 pounds, but the car seemed like it would be a real ripper, with a stronger limited-slip diff, TEIN springs and 16-way electronically adjustable shock absorbers. Also dig the 18-inch SSRs that are extremely trendy at the time.
The only thing that's weird is that all of this wasn't necessary.
The great mystery of the first-generation IS is that it came with the Supra engine stock, but only without turbos and small details like additional oil squirters and recessed piston heads. It always seemed like Toyota could have just turbocharged the 2JZ with ease and gotten more power out of the thing, but instead we got the more burgers-and-fries V8 instead, first here then with the original IS-F.
I bumped into an old forum thread about this car and found the following exchange, which just about sums up the feelings of the time:
I will also add that yes, in that same thread someone posted a link to say that Toyota was going to use this platform to make a new Supra. Of course.
Still, the question remains. Why was there never a turbo IS300? Why Lexus? Why?