It feels like a long time since I've seen an endurance race car advertised with a four digit power output.
I mean, drag racers are incomprehensibly powerful, and 1000+ horsepower Formula Drift cars are here and multiplying. But up until the debut of the 520hp gas/480hp electric Toyota TS040, endurance cars had been at a loss since I don't know when.
The last endurance racer I can think of that topped 1,000 horsepower was the famed Nissan R90CK. The R90 series of cars ran from '90 through '92, and I will always remember it for this blow-your-mind video of the R90CK's qualifying run in 1990.
With Mark Blundell at the wheel (pictured below), the car hit La Sarthe with 1,100 horsepower at 1.8 bar of boost. They had wired the wastegate shut for power.
I should also add that an R90CP hit the highest top speed in qualifying that year, reaching 226.9 mph.
G/O Media may get a commission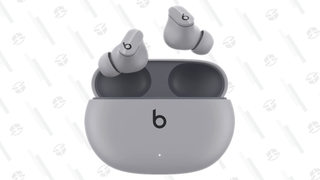 Here are some more pictures of the monster.
But surely my memory is spotty. I would be surprised if the R90C was the last 1,000+ horsepower prototype racer. Can you think of any other endurance race car that's had a thousand horsepower or more since 1990?
Photo Credits: Getty Images