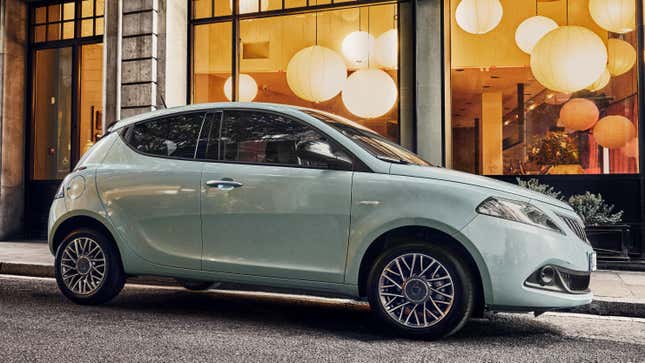 Lancia, which is in the middle of transforming itself into something else (probably just another luxury marque), is an automaker with real history that still does sell cars. Or at least one car, in a handful of European countries: the Ypsilon, which is a supermini, which is the car I would buy if I lived in Italy. I would ask them to paint it in this new green.
The green, called Green Dew, is good because it is green, but also because it is subtle: the opposite of British racing green, which is for people who want to pretend to be Jackie Stewart. The green is a part of some updates for this year's Ypsilon, which is, I think, in its third generation but who can really say, as the Ypsilon is timeless. Lancia says the style updates are going to make the car more youthful or something.
Updates were also applied to the color palette, including the new Dew Green livery which recalls nature and innovation. The interiors have a new blue finish on the dashboard and door panels, refined multichrome green accents on the gear shift knob gem, the steering wheel calice, the frames of the air vents, and the graphically revamped instrument cluster. Similarly, the new chairs come in a SEAQUAL® YARN* upholstery, an innovative and sustainable material that are obtained from recycled plastic from the Mediterranean Sea.

The Silver version has also been updated with a new black look for the grille, logo frames, and lower bumper. The front has been made more "youthful" with DRL halogen headlights and a black spoiler (with the latter coming standard on the entire range).
Lancia, which is owned by Stellantis, also gave some frankly shocking numbers about just how well Lancia is doing with the Ypsilon in Italy:
With almost 41,000 registered vehicles (40,991), the Lancia Ypsilon continued to dominate the B segment in Italy. For the fourth consecutive year in a row, it was the best seller vehicle in its category and the second best seller in the Italian market overall and with a 15.3% market share, recorded the best market share ever in its history, up by 1.2 percentage points compared with 2021. Lancia Brand achieved a market share of 3.1%, up 0.1 percentage points compared with 2021.
This new green can only help.