With fabulous fastback sports sedan looks, the 2017 Kia Stinger GT was one of the greatest stars of this year's Detroit Auto Show. But it's not just a pretty face, either: Kia says that it will be quite quick as well. Color me extremely interested.

During its debut at the Seoul Motor Show, Kia released some 0-62 mph times for the car in a press release:
When the Stinger goes on sale in Korea, it will be available with a choice of three powerful engines. These include a powerful 3.3-liter twin-turbo V6, producing 370 ps with a maximum torque output of 52 kgf.m, giving the Stinger 0-to-100 kph acceleration of just 4.9 seconds, and making this the fastest-accelerating and most powerful car Kia has ever produced.
In our speak, that's 365 horsepower and 376 lb-ft of torque—which is something nobody should be turning their nose up at.
Despite not having a three-pedal option (boo), you can rest assured in the fact that this top-trim Stinger will give some of its German competitors a run for their money.
G/O Media may get a commission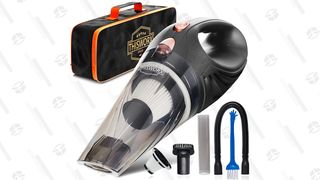 Save 50%
ThisWorx Car Vacuum Cleaner
We don't know how much Kia wants for the Stinger, but it probably won't be terribly cheap. Performance and power like that rarely is. But still! What a fun and cool-sounding car.