The idea behind the Winnebago Minnie Winnie RV is simple: it's a toilet on wheels. Also a living room, bedroom(s), command center, party pad... OK, so it's a whole house you can park wherever. It also makes car racing way more fun and easy. And no, that doesn't involve setting lap times in the housebus.
(Updated Full Disclosure: Mike Roselli used to work at Jalopnik and now works at FCP Euro slingin' car parts. He was supposed to take this Winnebago provided by GORVing.com for some race car camping before he left us, but didn't get the chance. So he ended up trucking it down to meet up with and support his new team instead.) 
There have basically been three evolutions of the American RV. First, they were boxed wooden frames with canvas roofs and passengers dying of dysentery. Then they looked like atomic toasters, or turds wrapped in tin foil. Today, they're big off-white bricks covered in swoopy graphics.
But while a modern RV is built around the same principle as a Conestoga wagon and an Airstream, it also has way nicer couches and beds and LED lighting inside. And the Minnie Winnie I used to support FCP Euro's operation at American Endurance Racing made Motel 6 look like sleeping in the dirt.
G/O Media may get a commission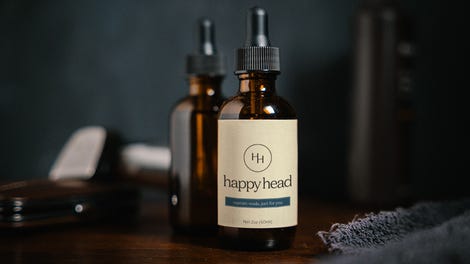 Coincidentally, that's what my coworkers had to do the first night of our race because I screwed up my calendar and showed up a day late. But once the Minnie Winnie did arrive, the crew proceeded to be spoiled rotten.
What We Used It For
American Endurance Racing is one of the best bang-for-your-buck racing series on the planet. At any given point during a race, there are 50-80 cars from all different makes, models and manufacturers competing on track at the same time. And after eight hours of racing, somehow, they finish within seconds of each other.
But what's more impressive than the competition is how the cars get to the end of the race. We cut the handle off a floor jack and welded it to our C300's radiator just to compete.
This type of resourceful, do-or-die mentality is what budget endurance racing takes to compete and, ultimately, win—absolutely everything comes secondary to the needs of the car, including your own. If it starts to rain, make sure the car is covered, and then you can find shelter for yourself.
So you can imagine when I asked my coworkers, "Do you want an RV to stay in at the track for the weekend," instead of living in trailers and on the dirt, their response was a resounding "yes."
Getting It To The Track
The Winnebago Minnie Winnie is a Class C gas RV based on the Ford E-Series chassis, which is essentially a big van with a Triton V10 up front and massive leaf springs in the back. It's one of the most popular RV platforms in the world, and there's a good reason for this—it drives like a big car.

We didn't tow a trailer with it, just parked close. I figured the RV's engine had enough on its plate hauling thousands of pounds of steel, vinyl, plastic and leather around.
Here, take a tour:
There's not much of a learning curve for a first-time driver behind the wheel. All the controls are where you'd expect them to be, the brakes are robust enough to stop you in a hurry despite the vehicle's substantial curb weight (it can be north of 14,000 pounds fully laden), and the engine is powerful enough to accelerate up a hill with a full tank of fuel and fresh water. I even caught myself breaking the speed limit a few times.
As soon as you get past the utter heft of a 31-foot rolling bedroom, kitchen, bathroom, shower, living room, and that it's all moving down the highway at 75 mph, the experience behind the wheel is rather pleasant. Of course, none of my racecar driver coworkers cared about any of this. All they cared about was the inside.
What It's Like To Live In
One of the main factors when looking for an RV, besides its price, is how many people it can sleep. If you were to compare shirt sizes with RV sizes, the Minnie Winnie would be exactly a medium in terms of what's on the market today.
The 31K configuration, which our press loaner was, sleeps four comfortably—and by that I mean four completely separate I'm-not-going-to-touch-your-leg-while-I-sleep areas within the RV. Considering that the FCP Euro race team is comprised of five stinky men including myself, this was an important feature.
Inside, the Minnie Winnie 31K is remarkably well-appointed. The seating surfaces are covered with "Primera" fabric, which looks and feels kind of like leather, which is especially nice when your face is against it (while sleeping) in the kitchen and living room areas. It feels like you're in someone's house, and not in the paddock of a racetrack.
All the traditional RV components are there, like a black and grey water tank (with an LED panel inside to check levels), a generator (which runs off the main gas tank) and a hot water heater (which is flicked on via a switch on that main panel), but Winnebago added a few things that give the Minnie Winnie a "cool" factor.
You can check out the whole spec sheet if you want to get a little less granular regarding this boat's loadout.

The Best Features
I cannot begin to tell you how useful this one set of integrated LED lights on the RV's exterior was for our team. Positioned in the nook between the RV's awning and the side of the vehicle, and operated by a switch near the entry footwell, this one illuminating strip meant we could work around the race car at night without running into obstacles. (Literally, because we could see.) It became perfectly clear how valuable this was when looking at other, older RV units that had haphazardly-strung Christmas lights on the awning to provide a fraction of the benefit our LED unit did.
The Minnie Winnie has an absolutely massive trunk that's covered in plastic cladding, which is perfect for packing up things that have lived on your campsite (or paddock, in our case) for the duration of your stay. It's like a giant enclosed pickup bed—folding chairs that got muddy, a grille, a bike, and just about anything else can fit in this extremely cavernous boot. I didn't think I'd need a trunk of this size in an RV, but after my time with the Minnie Winnie, I wondered how I would've coped without it. It's essentially the junk drawer of your weekend getaway.
Outlets on the exterior of the Minnie Winnie also proved to be immensely useful while trackside. All we had to do was plug the RV in for shore power, and then the Minnie Winnie became our giant power strip—plugging everything into that, rather than a multitude of extension cords.
Extra USB ports are found underneath the kitchen table to charge phones, cameras, walkie talkies, and any other electronic device you might have.
The automatic leveling jacks are also an absolute joy to use. With the RV running, and the E-Brake on, you just have to hit "auto" and watch the jacks do their magic—each independently raising and lowering of one another to find the perfect level so everything inside the RV stays flat.
Weak Spots
The generator is really, really loud. What's worse, is that it's positioned directly underneath the pull-out couch, so the person(s) sleeping there is forced to listen to a different kind of lullaby as they fall asleep. This isn't a problem if your final destination has plug-in shore power to run things like the air conditioning, lights, water heater, etc, but is something to keep in mind if you're going to be living off the grid for extended periods of time.
The aftermarket infotainment unit installed in our press loaner was completely inoperable, which is more akin to our individual RV rather than the Minnie Winnie series itself, but worth mentioning nonetheless. While you're camping, a non-functioning vehicle infotainment system is no big deal. But during the several hour drive to the track, and backing it into parking spots, you kind of really miss it.
Takeaways
For us, the Minnie Winnie acted as a sanctuary during a warm summer weekend at the track. After my coworkers got out of the car, hot and sweaty after a stint of racing, they cooled off in the RV which was kept at 71 degrees, grabbed a cold Gatorade from the fridge, and undressed out of their race suits in total privacy.

Really, the hardest part about the Minnie Winnie to grasp is the price, as our test unit came in as-tested at $101,490—the most expensive option being the $3,794 automatic leveling jacks which are absolutely a must-have if you're parking anywhere that isn't a paved, level driveway.
For that price, you get quite a few extremely sweet cars and plenty of hotel rooms. But there's something to be said for having a mobile house that's also a conference room, a pit box, a charging station, a dressing room, and a home you can put anywhere at a moment's notice. Most of all you get a good night's sleep, and there's really no price to pay for that—especially when it gets you first place.
Mike Roselli used to make videos for Jalopnik. He now makes videos for FCP Euro, but we let him write this because we still love him. He lives in Manhattan and drives a Miata and an E30.