The CJ-10 is a hideous machine. It was the square-headlight Wrangler before the actual, controversial square-headlight Wrangler came out in 1986. But, when dressed up properly, it can actually look damn sharp like this one for sale right now. And when you look at what a CJ-10 actually is underneath, it becomes even more compelling.
For sale right now on the car auction site for rich people, Bring a Trailer, is a right hand drive 1986 Jeep CJ-10. It's been lifted by moving the leaf springs above the axles instead of below, and it has some enormous 37-inch tires, a custom front bumper, a super nice white paint job, aftermarket bucket seats, a fuel injection system for its inline-six, an aluminum radiator, an upgraded power steering system, and a bunch more. It is stunning:
It's remarkable how nice this thing is because CJ-10s are, 99 percent of the time they're spotted in the wild in the U.S., totally hideous. But to be fair, that's because most of them were used as military aircraft tugs, meaning they not only had hideous army green paint, but they also didn't have beds. Here's what I mean:

G/O Media may get a commission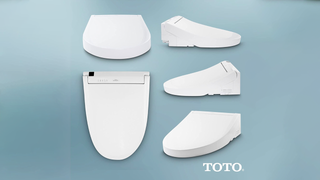 44% off
Toto Washlet Electronic Bidet Toilet Seat
The one above is for sale on Craigslist in Minnesota for $4,000, and is outfitted with its original Nissan inline-six diesel engine, and this strange platform in the rear:
The interior of this one is fairly typical of CJ-10s, featuring a roughly 60-40 split bench, a three-spoke wheel, and a metal dash like that of a CJ.
The CJ-10A tugs like the one above were essentially CJ-10s that had been outfitted specifically for use pulling airplanes by a third party outfit. Fourwheeler magazine has a nice writeup explaining how it all went down. From the story:
PSI-Mobile, a specialty builder of emergency vehicles and flightline tugs, assembled a CJ-10 based flightline aircraft tug starting in 1984 and got a contract to produce them for the U.S. government. The project was started by AMTEK, another arm of AMC. Limited production of the basic chassis/cab was at VAM in Mexico, and PSI modified them in their Michigan facility.

[...]

Dubbed the CJ-10A, the chassis was shortened to an 88-inch wheelbase and featured an extremely heavy rear body that contained the fuel tank, a large tool box and a compressed air system. The extra gear added about 2,000 pounds, but that weight added to drawbar pull. With a rated drawbar of 4,000 pounds, a properly ballasted CJ-10A was could tow up to 40,000 pounds on level ground.

So yes, the CJ-10s we see in the states—technically CJ-10As—were pretty horrid looking, but a civilian CJ-10 doesn't look nearly as bad, though those are hard to spot in the U.S., since they were built specifically for export markets.
The story, as Fourwheeler tells it, goes like this: financially struggling AMC was looking to make some cash in international markets, and decided—for whatever reason—that selling its CJ was the best call. But it wanted to sell a pickup truck, and instead of stretching the tiny CJ platform, AMC just used its SJ platform—particularly the one under its J-10—and slapped on body panels derived from a CJ, as well as a very basic box. And thus, the CJ-10 was born.
Specifically, AMC was gunning for the Australian market, advertising the vehicle as a "J-10" or a "1-Tonner" according to Fourwheeler. Apparently the truck was generally liked, except it was too expensive due to the exchange rate, ultimately dooming the CJ-10. The vehicle was also sold in markets other than Australia, but it was not particularly successful, Fourwheeler writes, in part due to insufficient marketing.

The civilian CJ-10s like the white one for sale here, could, according to the off-road enthusiast magazine, be had with an AMC four-cylinder, an AMC inline-six, or a Nissan Diesel, with transmission choices being a Tremec four-speed or a three-speed Chrysler 727 automatic—all sending power to a two-speed transfer case, a Dana 44 solid front axle, and either a Dana 44 or Dana 60 solid axle in the rear.
The CJ-10A aircraft tugs, on the other hand, used only the diesel and the 727 automatic, and power was sent to a transfer case that was permanently in low range, and only fed the rear wheels. Top speed, Fourwheeler writes, was 25 MPH.
But enough about the slow aircraft-tug CJ-10A—this one for sale is the civilian version which is, in many ways, quite similar to my 1985 Jeep J10. It's got the same engine, same transmission, same front axle, same transfer case, and essentially the same frame. It's just got a different body, and a much stranger front end which actually looks similar to a proposed redesign for the Jeep CJ-5 that never got off the ground, and that I spotted in Patrick R. Foster's book Jeep: The History of America's Greatest Vehicle. Whether the CJ-10 is somehow derived from that prototype, I don't know.
What I do know is that I want this CJ-10 badly—after all, it is essentially just a quirkier-looking, convertible, fuel injected version of my four-speed, inline-six Jeep J-10. What more could I want in this life?