Yes, that's exactly what you think it is — a double cab version of the amazing Jeep Brute conversion kit we drove four years ago and fell in love with. All I can say is: Do want. Do want very badly. Do want so very badly I'm thinking of sleeping outside of American Expedition Vehicles shop until one's ready for me to drive — like an Apple fan-boy lined up outside the Fifth Ave. Apple store for a new iPhone.
What we know at this point isn't vey much — just that AEV's bringing this new Brute-plus-two to this year's SEMA show. Although I hadn't planned on going to the annual aftermarket show next week, but now that I've seen this badass conversion, I feel like maybe that was a foolish choice. I kind of wish I were going now — even if it's just to stare at the Brute double-down and think naughty thoughts about it.
I mean, come on — it's the epitome of everything I've wanted in a vehicle since I was a small child — it's a Jeep and a pickup truck. In one! It's lighting up ever single one of my neurons left over from the days of cavemen — and trust me, I've got a lot of 'em — like a ring of primal fire beneath my skull.
Paint it in wet black and I'd be out in front of it, bowing before it like the obelisk from 2001.
G/O Media may get a commission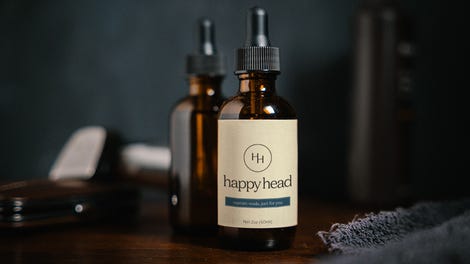 Why? Because I feel like I can now totally justify buying one — because, you know, I could have a family and it could still work for me.
Here's what AEV's slapped up on their website:
American Expedition Vehicles (AEV) will debut the brand new four-door 2012 AEV Brute Double Cab at this year's SEMA Show, nearly a decade after first introducing its Jeep based Brute pickup truck. AEV's original Brute was unveiled at SEMA in 2002 as a Jeep pickup conversion that offered superb styling, rugged utility, and the high quality always associated with AEV. Now AEV will once again use SEMA to introduce the popular Brute's newest incarnation, the Brute Double Cab, a four-door overland vehicle utilizing the newest JK Wrangler to deliver a powerful, unique off-road machine worthy of the Brute moniker.

"When we originally created the Brute, it appealed to off road enthusiasts looking for something different," says AEV Founder and President Dave Harriton. "Now with the debut of the Brute Double Cab, we're expanding the Brute series to a four-door platform that has everything people have come to expect from an AEV Brute, but with more interior room and the improved capabilities of the JK platform." Harriton continues, "The Brute Double Cab shares its DNA with the original Brute, but also draws inspiration from the Land Rover Defender 130, and was designed specifically for the expanding overland travel market. With seating for five and the storage provided by the fold flat rear seats, it makes for an ideal camping platform, whether it be a couple weeks through the Atacama desert or just a weekend trip with the family."

The original AEV Brute won the hearts of auto enthusiasts of all kinds and also won a Daimler-Chrysler Designer Excellence Award. The all-new Brute Double Cab will follow the same truck-conversion design principle as its predecessor. AEV starts with a four-door JK Wrangler and stretches the chassis 23 inches for a final wheelbase of 139 inches. The overall vehicle length stands at 216 inches, a total increase of 30 inches, with a small frame extension at the rear to accommodate the pickup bed. The interior dimensions of the Brute Double Cab's truck bed are 61"L x 60"W (44 inches between the wheel houses), offering plenty of haul space in a highly capable off-roader.

Harriton is quick to point out that the Brute Double Cab is not meant to be an alternative to a traditional pickup, but is uniquely positioned to serve the overland market with more off road capability than a four-door truck and more cargo room and carrying capacity than a Jeep.

AEV will offer the Brute Double Cab as a turn-key vehicle built in its Wixom, MI facility, and expects a production release by mid-2012. The opportunity for the first orders will be given exclusively to current owners of AEV vehicles and to AEV's authorized dealers, with orders opening to the public as production ramps up.
AEV tells us that they'll have better photos ready on Saturday and you'd better believe I'm running 'em when I get 'em.