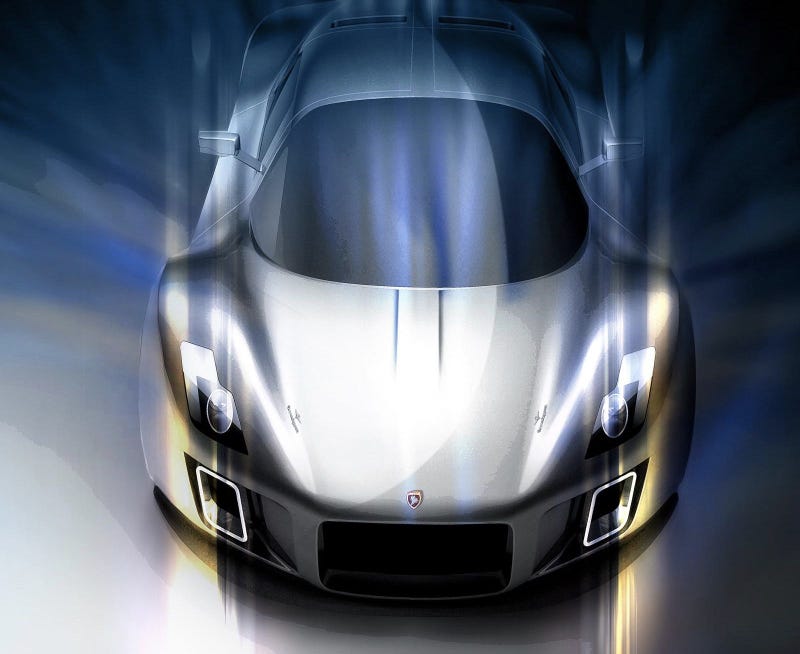 The Gumpert Apollo could never be accused being too attractive. But the German supercar builder is trying to change that with a new model styled by Italy's Carrozzeria Touring Superleggera. A new teaser shows how that's going for them.
The Tornante, a hairpin or winding roadway in the tongue of Da Vinci, is headed for the Geneva motor show next month. According to the teaser shot, it looks like the design firm is keeping some particularly Gumpert-like features, but softening their by the grace of a pencil. Underpinning the new body — a carbon fiber monocoque — will be a chrome-molybdenum steel spaceframe, and the same double-wishbone suspension as the Apollo.
Audi will continue to power the new Gumpert, with a twin-turbocharged 4.2-liter V8 producing 690 hp — less than the Apollo Sport's 750hp. That'll be regulated with the same TT40e electronic gearchange system as the Apollo Sport.
The company says 2012 will bring an "alternative powered" version of the Tornante, likely the 650hp hybrid system Gumpert had been testing in the Apollo — a 3.3-liter V8 paired with a 100kW electric motor powered by a lithium-ion battery pack.
[via World Car Fans]