When we introduced you to the 2016 Acura NSX yesterday, we weren't extremely complimentary to the interior. We should have been, and that's because it's all sorts of terrific. Here's why.
The problem with cars these days is bloat. On the interior, that bloat doesn't take the form of unnecessary weight or size, it takes the form of buttons, big a-pillars, confusing systems, and compromised sight lines.
In fact, giganto a-pillars are one of the biggest issues that new cars have, especially high performance cars that are expected to be used on a race track. That's the NSX. Acura says they took a lot of pride in making the a-pillars as thin as they could in order to provide great sight lines.
G/O Media may get a commission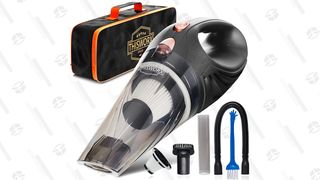 Save 50%
ThisWorx Car Vacuum Cleaner
And they actually did. Sitting in the NSX, you can see easily out of each corner, unlike a lot of cars on the market today. It's sad that being able to see clearly out of the front of a car is a big selling point, but this is actually true.
The interior itself is very minimalist. There are barely any buttons, with most of the controls you need for the radio and phone confined to the steering wheel. There's an infotainment screen and climate controls which sit just above a large rotary dial (which is not for the radio) and the start button. That rotary dial is actually used to select the drive modes of the car. It also has a push button shift like in the new TLX. I'm ok with that too.
Those are the only real flourishes. The seats are comfortable and tight, though I didn't really go around any corners so I can't tell you how the bolstering is. The instrument binnacle is kept as low as possible to keep open sightlines. Acura will not be offering a heads up display, so you'll have to focus on the display alone, which was not on when I was in the car.
What was on was the steering wheel (it better be, most cars need steering wheels). It's really great. The contours fit your hand perfectly, especially at 10 and 3. It's thicker there and has a pistol grip feel. It's incredibly natural to hold.
We've given Acura a lot of shit for nearly every single product decision they've made in the last decade or so. However, it's clear that they've taken getting the NSX right very, very seriously. I'm not willing to eat total skepticism crow yet, but I cannot wait to drive this car.
Photo Credits: Raphael Orlove, Acura