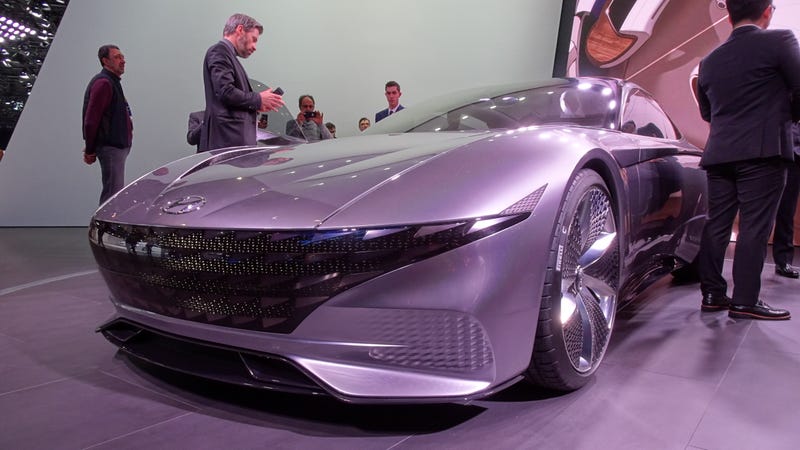 At a motor show you get cars you want to drive, cars you can afford to drive, cars you hate, and concept cars: full-sized glimpses designed by car companies to show you what might happen one day if the stars align, you hop on one foot, and chant the name 'Francis of Rome' (the patron saint of cars) ten times while blinking 'help me' in morse code.

They're cool as hell though, and tend to be covered in super advanced tech that would be impractical to actually build to cost/legislation in the real world. But it's nice to dream, hey?

Hyundai's Geneva concept, Le Fils Rouge, supposedly shows the brand's future design direction and is almost nothing how the next i30 will look (probably). However, it's still slick as hell.

Its suicide doors open up and out and have no visible handles, there are no wing mirrors, and the interior features the kind of design you'd see in the home of someone both achingly cool and not allowed over to your house for dinner.

The exterior is similarly pleasing to look at. It has smooth, flowing lines, bits that light up, and it all looks a bit like it drove off the set of a new Star Trek movie.

So, yeah, it's cool. So cool, in fact, that Horacio Pagani had a gander. Perhaps it's not just an inspiration for Hyundai's design team any more?