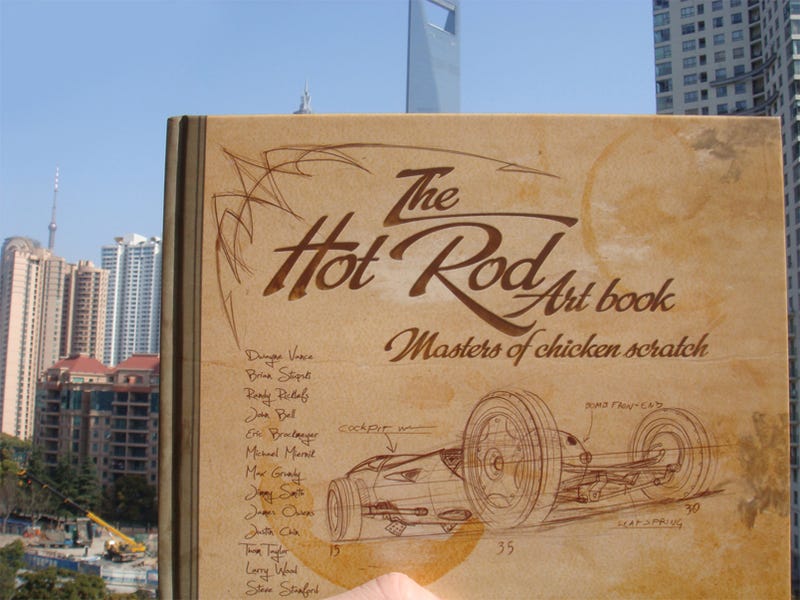 Chicken scratch is something we've all done in the margins of our homework, but Dwayne Vance has mastered the skill, evidenced by his self-published new book, "The Hot Rod Art Book: Masters of Chicken Scratch."
We covered Masters of Chicken Scratch back in December when the book was first announced, but we just recently received a gorgeous hardcover copy signed by Dwayne Vance himself.
Dwayne Vance has made a career out of his ability to pick up a pencil, tablet pen and even a Nintendo DS stylus to create some beautiful automotive creations that test both the physical possibilities of hot rodding and the vast depths of your imagination. Vance has fulfilled a lifetime of dreams that would delight any aspiring automotive designer and make the most seasoned of them jealous with stops at Mattel, designing wild and crazy concepts for both the Hot Wheels and Batman toy lines. Prior to designing the small 1:64 scale toys, he spent some time practicing his craft by designing real rods at Troy Lee Designs immediately after earning his BFA in industrial design from the prestigious Art Center College of Design in hills above the Rose Bowl in Pasadena, California.
Unlike many automotive art and design books on the market today, Vance chooses to not only showcase his own unique designs, but also his peers with which many are accomplished professional designers in the community as well. These include Hot Wheels legend, Larry Wood, Thom Taylor from "How To Draw Cars Like A Pro" fame and James Owens' vintage-looking car-noir prints. In all, 13 automotive artists are represented here, including Vance. It's a healthy dose of hot rod art, that's thankfully lacking in the over-used tiki motif.
Masters of Chicken Scratch manages to be two things at once – First and foremost, a reference of some of the best hot rod artists and designers currently practicing the craft and also a helpful instructional tool with an included CD feature drawing instruction by Vance himself. There's a treasure trove of images included in the self-published book that definitely make it worth the price. Head over to the book's website, HotRodArtBook, to order yourself a copy. And trust me when I say, it's worthwhile investment for any automotive enthusiast.