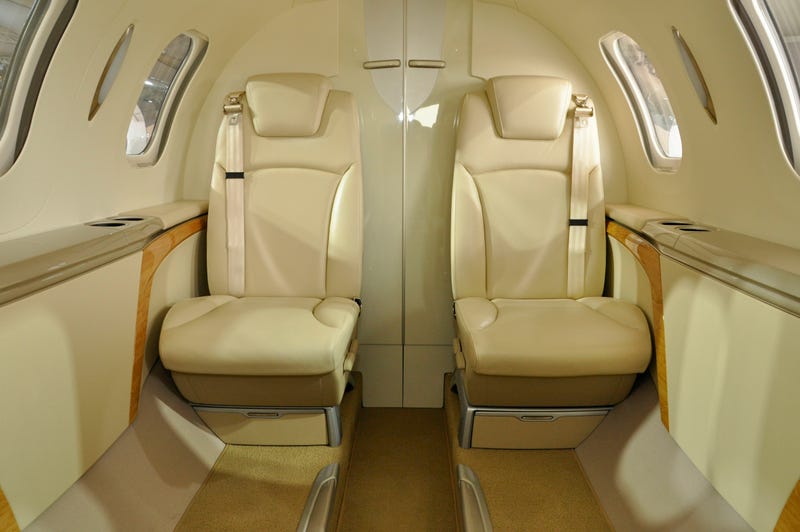 As you've read by now, HondaJet brought its first production aircraft to EAA AirVenture at Oshkosh this week. And since you've already seen a lot of details about this sexy jet, let's skip to the good stuff, and see what she looks like up close!
I visited the HondaJet tent at Oshkosh on Tuesday, though calling it a "tent" is probably an understatement. They had an impressive display, including everything from their generators and motorcycles, to their ASIMO robot, who performs several times a day. Without an appointment, I approached a guy who was wearing a blue HondaJet golf shirt and asked if I could take a look inside. A few minutes later, a public relations woman was at my side. It turns out, they're Jalopnik fans.
Stepping into the HondaJet
HondaJet cockpit, with the Garmin 3000 avionics suite [photo by HondaJet]
HondaJet's cockpit yoke
HondaJet's cabin light fixtures.
On the Honda Jet, a folding table is stored in the wall, between two facing seats on each side of the cabin.
Skylights in the HondaJet's lavatory are a nice touch!
Just for fun, here are a few photos of the plane in action, because we haven't seen many that weren't produced by a pro for Honda.
HondaJet CEO Michimasa Fujino introduces the first production HondaJet to the AirVenture Crowd
HondaJet soars over head during the afternoon air show at AirVenture
After its aerial performance was complete, the HondaJet taxis back to its display stand.
All photos are by Paul Thompson, except for the cockpit displays. They weren't turned on during my tour, so I opted to use their stock photo.