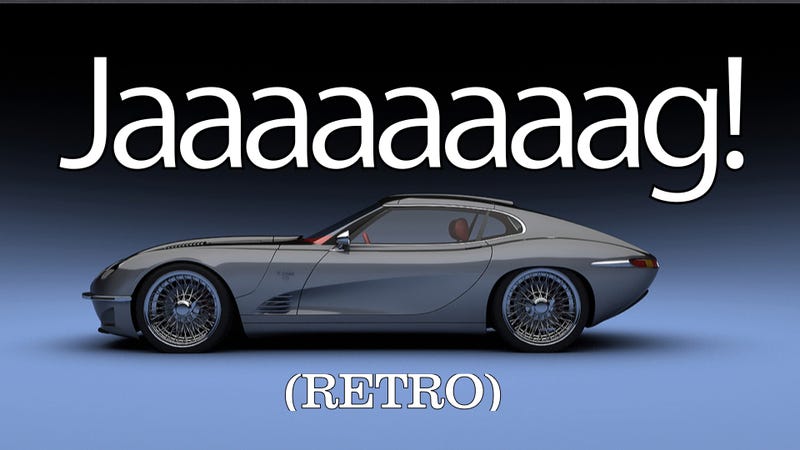 The retro-obsessed designers at Vizualtech make a point of mentioning not everyone likes the new Jaguar design direction. Their solution? Drop an E-type-inspired body on the current XKR.
It was 50 years ago next month that the Jaguar E-Type rolled out on the Geneva Motor Show stage and into the page of history as one of the most beautiful cars ever. Design studio Vizualtech and Swiss designer Robert Palm won't come out and say the new Jags don't live up to this standard, they'll just say other people are saying it.
"Everyone doesn't like the direction taken lately by Jaguar design, initiated by the Jaguar XF and confirmed by the new XJ," said Vizualtech's Bo Zolland in an email this morning. "There are still many friends of the noble English brand who are nostalgic of the sensual shapes of the XK 120, Mark II, XJ6 and, last but not least, the fantastic Jaguar E-Type."
Thus the 50th anniversary of the E-Types debut (and a wealthy Swiss businessman) inspired the Growler E 2011. Built on the same platform as the Jaguar XKR — a car still very much Jaggy and sexy — the Growler E benefits from the 510 supercharged 5.0-liter V8 boosted to 600 hp thanks to a little engine remapping.
Evocative of the original, the renders of the Growler E show a design that carries over the same long-nosed, phallus-as-automotive proportions accented by the retro wire wheels. The front fascia proposes the same oval grille, albeit flanked by quad-round headlights rather than the single-piece most associated with the design.
A one-off for a guy who probably handles Mubarak's foreign accounts, the company's willing to forsake the uniqueness with a small hand-built series "for an unknown price."
Show us your tips!
Got tips for our editors? Want to anonymously dish some dirt on a competitor? Know something about a secret car? Email us at tips@jalopnik.com.
Looking for our forums?
Click here for the Opposite Lock or Tips forums.
Get more Jalopnik!
Want even more Jalopnik? Want to know which of your friends read us? "Like" us on Facebook and follow us on Twitter.