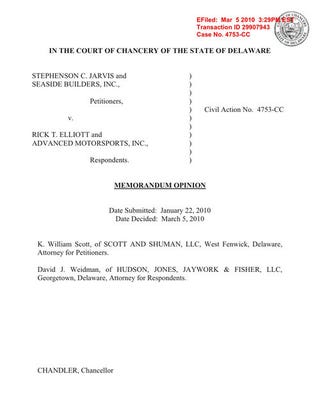 Writing for the web means abusing superlatives, but no OMGWTFBBQ can describe how amazing the legal opinion in Jarvis v. Eliot. It's a tour de force of jurisprudence quoting freely from Richard Petty, Days Of Thunder and Talladega Nights.
The actual details of the case, involving two engines and some race winnings shared between driver Rick "The Rocket" Elliot and team owner Stephenson Jarvis, aren't particularly interesting. It's the hilarious commentary slipped into the legal language by State of Delaware Chancellor William B. Chandler, III that makes this pure brilliance. For example, this footnote:
Not only do the facts of this case persuade me that these
items were donated for the use of the 45 team, but so do the wise words of the great Richard Petty: "[W]inning isn't necessarily a driver thing or a car thing. It's a team thing." See Steve Waid, Credit the Crew for Petty's 1981 Daytona 500 Win
And this bit of legal reasoning: "My finding on that point was as easy
to gauge as the 1992 Indianapolis 500 finish was difficult to determine: Starrette
clearly had given Elliott the First Engine, free and outright from any agreement or
requirement that Elliott (or Jarvis) provide advertising on the side of the 45 car."
Okay, one more hilarious footnote:
50 See, e.g., TALLADEGA NIGHTS: THEBALLAD OF RICKYBOBBY (Columbia Pictures 2006)
(providing an example of a driver contractually obligated to incorporate the name of his sponsor,
Powerade, into all pre-meal blessings).
You can read the full opinion in the gallery below.

In addition to the numerous racing references, note the subtle digs at the delightfully pastoral language of the parties in the case.